An exclusive interview with Trum, Rising South Florida Music Producer, Songwriter & the CEO of Trumatized Beatz.
Q: Trum tell us about yourself? Where are you from and how long have you been working in the industry?
Trum: I'm 39 years old and I was raised in Delray Beach, FL. My grandmother raised me from birth so I consider her  as my mother. Grandma was a missionary in our church, so we always went to church. At the age of 5 I learned to play the drums in church. I started writing raps at 12 and I used to rap over blank tapes to songs that were being played on the radio.
Q: Tell us about the latest album you're dropping. What can listeners expect from this project?
Trum: I just dropped a beat tape and I will be releasing the hardest 6 track EP at the end of the year.
Q: What inspired you to pursue beat making and production as your primary focus within the music industry?
Trum: I started writing songs and taking music seriously when I was incarcerated in 2005. When i was released I had a notebook full of songs ready to be recorded. Writing is a way for me to vent when I want to release positive or creative energy back into the universe.
Q: How do you approach the process of creating beats? Can you walk us through your creative workflow?      
Trum: When creating a beat, I always lay down a good melody first and then add my drums. Sometimes I layer different chords and inversions to create a stronger sound or sometimes it's very simple. I have to be in a creative state of mind when producing an instrumental. This state ties into my feelings and emotions, it all depends on the energy frequency at the moment. I sit down at my desk in my studio, turn all my hardware on and all the buttons light up and I just start practicing my piano chords or running through different sounds until I find the one I like.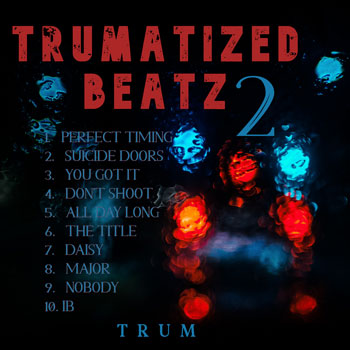 Q: What elements do you consider essential in crafting a memorable and impactful beat?
Trum: Very important elements are pianos and synths for your melodies, a good kick or 808 bass, layered hi hats, cymbals & crashes if needed (this really depends on the type of beat). What really brings the beat to life is how it's mixed.
Q: How do you stay inspired and continue to innovate in a genre that is so competitive and is constantly evolving?
Trum: My talent was given to me from God, so I'm always inspired to create music. Life's obstacles keep my music going, it inspires me to keep pushing.
Q: Are there any specific themes or concepts that you explored in your new album?
Trum: On my new beat tape Trumatized Beatz Vol. 1 I delivered a different variety of beats. I like to  show what I'm capable of, especially if labels and artists are watching.
Q: How do you select the artists to collaborate with on your beats? What qualities do you look for in a potential collaborator?
Trum: I always look for an artist that can fit my style of beats and the character of the artist. The qualities I look for in a potential collaborator is creativity, being open to new ideas and boundaries, business approach and personality.
Q: In your opinion, what sets your beats apart from others in the industry?
Trum: What sets my beats apart from others in this industry is that my beats are catchy. I believe that I put the right amount of ingredients in every beat to make it just right. I also do a lot of beat switch ups. Beat switch ups are when the beat has 2 different beats all in one beat. I think this can make a simple beat very interesting and catchy.
Q: Who are some of your favorite artists and who would be your dream collab?
Trum: Gucci Mane, Kanye West, Kodak Black, Lola Brooke, Lotto, Lil Baby, Gunna, Kendrick Lamar, Drake, Lil Wayne