Born and raised in London, UK, Nathan Palmer – known to the scene as NXTHXN – is a longtime R&B and Soul singer and session vocalist, with a wealth of high-profile collaborations to his name; most recently as a backing vocalist for Grace Jones, Jocelyn Brown and WizKid.
Available from 23rd November, his latest studio release "Me Too", features R&B hit producer XVR BLCK, and is a great combination of R&B, trap, and neo-soul, highlighting Nathan's ability as a vocalist, and his unrelenting ear for smooth grooves and alluring melodies.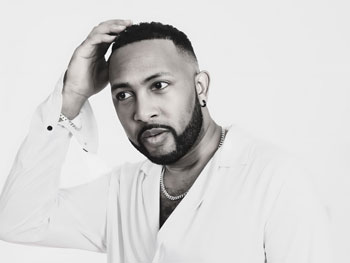 NXTHXN immediately stands out due to the quality of the production on "Me Too", especially with the vocal performance being so passionate and richly nuanced, highlighting Nathan's distinctly eclectic range and keen sense of melody.
The waves of atmospheric synth and textures from the layered background vocals elevate the romantic lyrical outpouring of poetic adoration. Tinged with regret and self-reflection, the song ultimately celebrates unity and love, promoting overcoming and devotion to another – a modern love song with a twist of realism.
Brace yourself for a crisp and exciting sound, featuring equal parts nostalgia and contemporary expression, blending aspects of Gospel and Classic Soul with notably more mainstream hints of Pop and R&B. "Me Too" effectively bridges the gap between the past and present of Soul, Pop and R&B and is recommend to any fan of artists such as Miguel, Boyz II Men and Usher.
This release will hit you in the guts with a melodic punch, but also features so much energy, which makes the music all the more authentic and easy to relate to for listeners from all walks of life.
OFFICIAL LINKS:
Instagram – https://instagram.com/nxthxnofficial
Facebook – https://facebook.com/nxthxnofficial
X (Twitter) – https://twitter.com/nxthxnofficial
Soundcloud – https://soundcloud.com/user-246891236
YouTube – https://youtube.com/channel/UCUbYjiFOBjoBK-JFbWydeZA
Spotify – https://promocards.byspotify.com/share/4c53ccb0b0f0d63db94c70af5ed3ad22f7eafff6
Website – www.nxthxn.com