In the gritty streets of Birmingham, UK, where the beats reverberate through the urban jungle, a lyrical force of nature has emerged. CS Fresh, a prodigious talent with an insatiable hunger for music, has seized the rap scene by storm, leaving a trail of awe-struck fans in his wake. With a fearless determination to push boundaries, CS Fresh shatters the confines of genres, refusing to be confined to a single sonic box. Since bursting onto the scene in 2018 with his inaugural single, CS Fresh has been a maverick in the industry, fearlessly exploring the sonic spectrum. From the infectious grooves of UK Garage to the hard-hitting rhythms of Rap, from the gritty allure of UK Trap to the soulful melodies of R&B, CS Fresh effortlessly traverses diverse musical landscapes, leaving his indelible mark on each one.
Collaborations have become a testament to CS Fresh's rising stardom, with his artistry attracting heavyweight talent from near and far. He has seamlessly weaved his rhymes with the likes of Dj Ironik, Shotty Horroh, President T, Mic Righteous, and even ventured across borders to join forces with AJ1k. These collaborations serve as a testament to his magnetic appeal, drawing artists from all corners to join in his musical vision.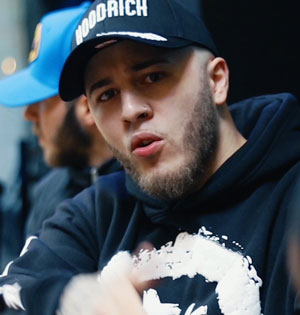 CS Fresh's mastery of the craft is truly awe-inspiring. His unique blend of chopping flows, technical rhymes, and an unwavering passion for music creates an electric current that surges through every track he touches. His undeniable talent has caught the discerning ears of BBC Introducing, earning him multiple appearances on their prestigious platform, further solidifying his ascent to stardom.
But CS Fresh's sonic odyssey has only just begun. As he releases his latest single, "Stick Em Up" featuring President T and Omez, listeners will be gripped by an unrelenting intensity that leaves no room for doubt – this artist means business. CS Fresh storms onto the scene, armed with rapid-fire, laser-sharp rhymes that hit with the force of a sonic hurricane. His gripping delivery grabs you by the throat, refusing to let go, as he ignites a fire within you that demands attention.
President T and Omez, no strangers to lyrical wizardry, join forces with CS Fresh, adding their own unique cadences to the mix. Their tongue-twisting prowess leaves you breathless, their words intertwining in a mesmerizing display of lyrical dexterity. Just when you think the intensity has reached its peak, CS Fresh reclaims the spotlight, dropping killer rhymes that sear through your neurons, igniting a dance of euphoria inside your head.
The pulsating, skittering rhythm crafted by the gifted producer Kosfinger forms the foundation of "Stick Em Up," propelling the track forward with an undeniable ferocity. A growling bassline and cracking percussion elevate the beat to an entirely new level, weaving a sinister aura that permeates the sonic landscape.
As the rappers paint their lyrical tapestries upon this intense backdrop, the synergy between the instrumental and CS Fresh's masterful delivery, fueled by President T and Omez, creates an electric atmosphere that captivates the senses.
CS Fresh has made it abundantly clear that he is just getting started. With his latest release as a testament to his unwavering dedication, he promises an onslaught of musical brilliance throughout this year and the next. Brace yourselves, for the rap dynamo from Birmingham is poised to unleash a sonic revolution that will reverberate through the underground.
Prepare to be mesmerized as CS Fresh ascends to new heights, seeking his own rightful throne. The journey has just begun, and we can guarantee that the world will be hearing much more from this musical dynamo in the coming year.
OFFICIAL LINKS: https://linktr.ee/csfresh – Instagram @cs_fresh