As measured by the orgasmic-rock-meter, the slow-burning single "Vertigo" by alternative rock band, Fangbanger is a fierce, intensely hot listening experience. The band who has opened for Michael Graves of the Misfits and enjoyed over 2 million views on TikTok, summon all of their songwriting and performance skills, and carefully chisel them into one of the most accessible and relatable songs in their catalog. "Vertigo" runs slow and deep, twisting the mind and tearing at the soul.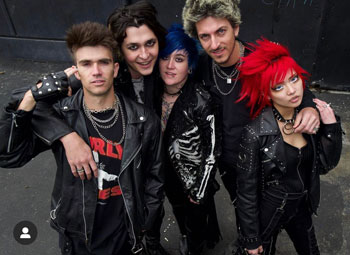 The mood of "Vertigo" is intriguing – a dark heavy waltz, enhanced by an oscillating and hypnotic melody line. Once the band cranks it up, we have a solid piece with just the right amount of diversity in the soundscape and shifting chord patterns, to thoroughly hold your interest, while never veering away from the soul-stirring crepuscular aesthetic.
The song gives the singer Alex DeVille, plenty to work with, and his heartfelt soars and strains fits perfectly with the dark and eerie mood, communicating a tortured emotional state: "Empty promises yet again. Anthrax love letters laced that I send. I know you just want me to stay. I can't be what you want me to be. I'm just a catastrophe," he exclaims, making it a compelling listen, as he slips from manic to pure discipline in a split second. Around the powerful drive of the vocals and harmonies on "Vertigo", the instruments create an astounding wall of sound.
The music bursts into your ears like a life-giving serum, supplying four minutes plus, of non-stop precision and passion, with every band member playing at maximum level – the guitars courtesy of Ven Adams and K8 Panik grind and jangle, while the bass by Finn Factory and the drums by J.D, steadily and forcefully push the momentum.  The weaving of call-and-response, spot harmonies, vocal fills and background support in all the right places is mesmerizing, especially in conjunction with the slow but hard-driving rhythm.
"Vertigo" is a grand, theatrical piece of alternative rock. It is haunting and poignant and raw; ultra-emotional and highly relatable. It is a work of honest pain and true reflection. It is a work that everyone can find themselves caught up in. "I'm not gonna believe, you've got nothing for me. Cause love enslaves us all, but I refuse to fall," sings Alex DeVille, taking you to the apex of the storyline. It is captivating, because it shows that the band is simply able to write great songs.
Usually rocking out with banging anthemic jams, this time around on "Vertigo", Fangbanger shows a more introspective side to their overall aesthetic, and it is impressive. The song absolutely explodes into a stratosphere of mesmerizing dynamics, mood and nuance, building a massive sound that never spins out of control. Fangbanger has, for this particular song, morphed into something more pensive, yet still monumental and vital.
"Vertigo" will leave you with nothing but excitement for the next Fangbanger record, to see where their inspiration will come from, and where it will ultimately lead them.
OFFICIAL LINKS:
Spotify: https://open.spotify.com/artist/4g7KC5mjimKZ0jJiTJDqiB?si=KT5_K4IcQHesaUZmgXJGdg
Website: https://fangbanger.net/
Instagram: @fang.banger
TikTok: @fang.banger