Montreal, Canada-based storyteller and real world observer, REALCITYFAME is of Caribbean/Canadian decent. Bringing songs with smooth jazz vibes and hardnosed lyrics, the artist presents his 6-track project, 'Pain In The City'. His content sounds uncompromised, and he seems as focused as ever. The artist's strength is in his lyrical depth, and he has an obvious knack for transcending either his region or the current musical landscape. To that end, this project may well measure up as a high mark of hip-hop by year's end. REALCITYFAME makes as good a use of production as could, and he has no doubt benefited from the top-tier beats.
The record carries the productions' most appealing fingerprints: a knack for minimalist funkiness and well-channeled silky smoothness. Here REALCITYFAME has a refined a platform for his flow, as he jumps from bouncy double time to his laid back drawl with each track. His ability to switch immediately from upbeat nostalgia, to a sinister street drama tone is a testament to his incredible technical agility.
Dense and verse-heavy, most of the best lines in each track are immediately noticeable, thanks to the allure of REALCITYFAME's flow and vocal timbre. The emcee is both believably cool and lyrically vicious right from the opening track, "Come Up Story", as he relentlessly unfolds his poetically inclined narrative, over a groove inducing beat. The rhyming and wordplay are top notch, as REALCITYFAME does not waste a single rhyme, getting his message across.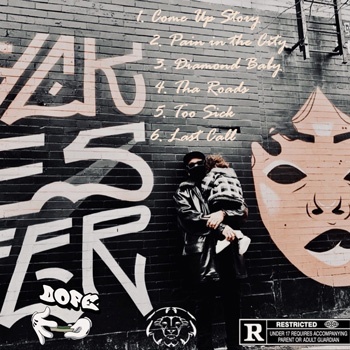 The title track, "Pain In The City" sounds convincingly true, both as an affecting personal narrative, as well as an existentialist justification. The song is a feat in subject as much as sound with REALCITYFAME at his self-reflective best. The production offers the emcee a chance to flex his delivery in a way that emphasizes a powerful emotional sway. This is the type of songwriting idea that can't go wrong. It's a damn near guarantee you're going to get a great track, which you do.
"Diamond Baby" follows a similar tone, and once again, the shimmering production doesn't only force REALCITYFAME to push his abilities, but also gives him a space to explore his perspectives, which includes an ear-warming melodic hook. The chatter turns into self-interrogation, and then supposition, as the beat rises almost as if to escalate the internal conversation by REALCITYFAME.
"Tha Roads – Extended Kidulthood Skit" hits us with the cold facts of life, and the struggles of growing up the hard way. There are those who make it, and there are those who don't. Here REALCITYFAME unpacks a powerful narrative that also seems to be autobiographical in some ways.
The menace of REALCITYFAME's voice and realistic raps over the hypnotic, slapping production weave together seamlessly. The track's focus somehow brings out the full spectrum of REALCITYFAME as a human being.
The project finally closes with "Too Sick (Let that RIP)", a bass booming anthem, where REALCITYFAME launches a rapid-fire relentless flow. The track's appeal is profound. There is a sense of distinctive mystery at the heart of this spirited arrangement that makes it worth repeated listens. Overall, 'Pain In The City' is a new benchmark for REALCITYFAME and may end up as a career calling card. If nothing else, it certainly sounds like one of the year's best hip-hop projects.
OFFICIAL LINKS: https://linktr.ee/Realcityfame