When a 21 year old songwriter takes 9 years to write a song, you may understand two things: one, he is deadly serious about his craft. Two, the subject matter is extremely sensitive, and emotionally consuming. Both these observations are certifiable with the single "Drowning", by Germany based independent artist, PHANES, who perfectly described the complexities in the creation of this song. "Losing a loved one can be hard. I tried to explain the different stages of grief," explained PHANES. "The main inspirations for this song were The Neighbourhood and Lil Peep. I tried to capture what it feels like to lose someone you love to death," he continued. "It's also about all the questions that come with it, like – Is there a life after death? Is the person I lost up there in the sky and looking down from time to time? Can they see how hard I'm trying to stay strong?" he concluded.
Singer-songwriter PHANES needed just enough time to deal with everything he was going through and pick up pieces of his sentiments and emotions left scattered after a devastating loss. What results is a graphic and revealing, authentic stroke of passionate songwriting. This is a superb follow-up to his debut single "Warning Signs" and establishes him impressively fast as a songwriter whose creative efforts are deeply confessional and awash with emotion.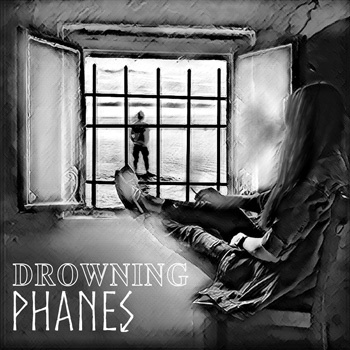 On "Drowning" PHANES ramps up the production to create a steady rhythmic and guitar-jangling sprawl, while at the same time remaining true to his heartfelt, and intimate sonic roots. The single has all the qualities of a blockbuster pop record – subtle but incessant hooks, up to the minute production and wistfully engaging vocals call for repeated listening. Despite it's devastating theme, the track has dazzling auditory moments, as the sonic gorgeousness opposes the lyrical grief. The deeply personal quality of his songwriting remaining as potent as ever.
"Drowning" manifests all the intensity of PHANES emotions and interrogations. It is a remarkable indication of the artist's innate search for making sense of death and loss. A phenomenal songwriter, producer, and multi-instrumentalist PHANES' vocal and lyrical dexterity in "Drowning" is where the pure genius of the song lies exposed. Melodically and rhythmically, PHANES has constructed the track with such tenderness whilst brazenly infusing it with intensity and momentum.
At 21-years-old, PHANES embodies the key Gen Z values in his music. As "Drowning" progresses, we see his thoughts and feelings develop. Lyrically, the track serves as undeniable evidence of PHANES ever-expanding talents as a songwriter – shining in the perfect contradiction of existential crises articulated with irresistible confidence in his performance. PHANES has managed to create an incredibly constructed record with "Drowning" that takes the listener on an emotional journey right along with him.
Listening to "Drowning", it's difficult not to relish in the artist's distinguished tone and sound aesthetic. The song showcases PHANES' talent to blend emotional vulnerability with ear-catching hooks that stick with you, while he offers honest transparency at every corner.
OFFICIAL LINKS:
https://twitter.com/PHANESmusic
https://www.instagram.com/PHANESmusic
https://www.tiktok.com/@phanesmusic