Getting his start as the lead guitarist for the reggae-rock band, Still Region, Josh Karch has been in the Pacific Northwest music scene for over a decade. His single, 'Davy Jones', aired regularly on Portland radio stations. Josh has not only received recognition from members of legendary reggae bands such as Slightly Stoopid and Stick Figure, but he has opened for nationally and internationally known artists and bands such as The Wailers, Hazel English, SafetySuit, From Indian Lakes, Armors, Dylan Jakobsen, Radkey, The Velveteins, The Fame Riot, and Tallhart. After moving from Portland, Oregon to Seattle, Washington, Josh Karch set his mind on creating some new songs, and frequently collaborates with Grammy Nominated producer and audio engineer, Beau Vallis (Pharrell Williams – G I R L), who contributed to the production of his new EP, 'Weekend Worrier'.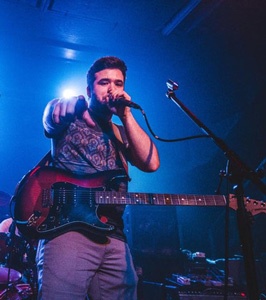 The instrumental scenario on 'Weekend Worrier' is an unusual and almost nostalgic one for the modern scene – vocals, guitars, bass, beats, and keys (including the iconic Mellotron). There is no pandering to the mindless masses here. No sterile production ideology has tried to smooth the edges off Josh Karch's earthy blend of electronic and organic sound. No corporate orders have forced him into adding any obvious commercially inclined clichés.
Yet, Josh Karch has put together a catchy blend of indie-pop hooks, alt-folk warmth, and alternative hip-hop vibrancy on 'Weekend Worrier', to create a captivating 2-track EP. Opening track, "The Tempo" vacillates between sweetly effervescent verses and pretty pop choruses that neatly utilize all of the available studio frills without sacrificing the song's spontaneous immediacy. The sound is rich, vivacious and lush, as the walls between the mainstream and indie come tumbling down. Polished, meticulously constructed, and perfectly buoyant.
The use of synthesizers, electronic beats and a selected range of organic instruments gives the songs on this EP a much fuller, more vibrant and authentic sound than most of Josh Karch's contemporaries. "Shake The Feeling", is another example of Josh's ear for an edgy yet sweetly sticky melody.
He has a knack for toning down the frenzy while maintaining the energy of modern music arrangements. All the while, he concentrates strongly on the songwriting without compromising the unique strain of his performance and sound.
There is plenty of music today, which is immediately captivating, but unable to sustain repeated plays while allowing listeners to appreciate its diverse nature and expanded scope. Not so for 'Weekend Worrier', where Josh Karch puts together flourishing and flamboyant nuggets of sound, combined with off-kilter fragments of irresistible indie-pop melodies, to create something that is exiting, fresh and almost endlessly replayable.
Josh Karch injects an understated, yet deep level of creativity and vibe into his songs, which is enabled through his musical flair that perfectly captures the feeling and the honesty of his voice and writing. The songs on 'Weekend Worrier' hook themselves right in and latch on for dear life. There's no way you'll easily be forgetting them. The production and arrangements are imaginative and interesting, with a creative use of techniques from different genres.
All throughout 'Weekend Worrier', Josh Karch shows us exactly how to perfectly structure, harmonize and end a captivating pair of songs that blend electronic and organic elements before they overstay their welcome. That is a refined art indeed. As the world copes with a myriad of problems, sometimes it's nice to just sit back, and take your mind off it all for a moment. 'Weekend Worrier' offers us flawless indie-pop escapism with an urban twist.