There is a tangible sense of laidback groove on the album "aHole" by 26-year-old producer Mitch Shaffer. This comes in part due to the pondered nature of his productions, and in part because perhaps he doesn't feel the need to compete with the most recent bombastic albums doing the rounds. The 10-track album oscillates between two poles. On one side, meditative and mellifluously textured R&B atmospherics that subconsciously calm you down. On the other, classic Hip-hop grooves with an understated bang that will have you nodding your head rather vigorously. All the tracks are fully loaded and richly layered with the necessary bells and whistles to keep your ears permanently pricked up.
There is a common mood of dreamy soulfulness running throughout the album, enhanced by production that's opulent without being ostentatious. Indeed, sumptuous and accomplished as it is, "aHole" echoes a handful of other great electronic albums with a similar kind of organic-styled groove built into the tracks. The album is charming, fascinating and a touch mysterious – exactly the qualities you'd want in a newly discovered artist.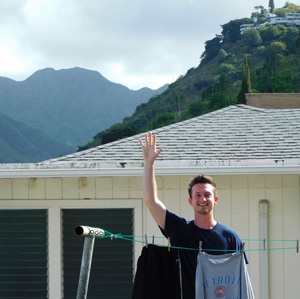 The album opens with "Avis" which instantly strikes a chord with its resonant retro pianos, throbbing basslines and steady drumbeat. This leads straight into the futuristic wobbly funk of "Barbara" and then on to the bouncy shimmer of "Goose". Three tracks in, and this was already a compelling listen. "Musubi" throws some soulful vocal samples into the mix, to add an extra dimension to Mitch Shaffer's sound. "Wiliwilinui" keeps the atmosphere smooth and elegant with rich, nuanced sonics and harmonies.
"Jerky Chips" has an almost ominous and repeating vocal hook which rides an insistent rhythm before it gives way to the more downtempo "Longs" which also maintains a repeating melodic hook that steadily becomes mesmerizing. This is a formula that Mitch Shaffer nails almost perfectly, on "Poke". He builds a hypnotic beat then grabs a vocal sample, which he weaves into the sonic fabric until it becomes too hard to ignore or to resist.
He is of course able to replicate that template without the vocal samples, using an instrument instead. Which is what he does on the spellbinding "Kamehameha". With so many other electronic producers out there these days, Mitch Shaffer has set himself apart through his mostly linear progressions that sprawl out into lush symphonies of groove-driven instruments, alongside his smooth flowing basslines and hypnotic sample flourishes.
Mitch Shaffer is fleshing out his full-bodied sound to the point of crafting wholly original sonic terrain in a genre known for an inherent element of derivation. Shaffer's most notable accomplishment on this album though, is the amount of soulful groove he manages to instill into the electronic templates. The smoothness of his mixes holding the shuffling beats and the dynamic samples together.
These songs are a perfect example of Mitch Shaffer's linear production aesthetic, as skittering percussion, throbbing basslines and all manner of instrumental subtleties are gradually added to each delicious mix. "aHole" succeeds in moving Shaffer's career prospects forward, and in the right direction, although he says he won't be leaving his day job any time soon!
OFFICIAL LINKS:
Apple Music
https://music.apple.com/us/album/ahole/1646722879
Spotify
https://open.spotify.com/album/2CQ8gMog97KXJlFSW6RIIG?si=-O-r6_00SRWnQ2Xi6_b-UQ
Tidal
https://store.tidal.com/us/album/250210382
YouTube
https://www.youtube.com/watch?v=dsJIGBgc3hs