Hip Hop artist rapper/singer and lyricist Nubia Emmon has announced her new single Trip and fans can hear the smooth track on most major streaming platforms. Coming out of the pandemic, Nubia didn't stop but continued performing in various virtual and live venues and worked on getting new material produced.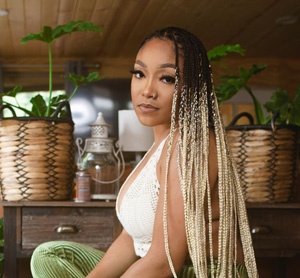 Trip marks her first single release since the aftermath of Covid.  Influenced by music of the 90s and early 2000s, Trip combines Nubia's trademark mixing and weaving rap into the melody of the song.
"I just really wanted to step outside the box and write something totally different from my norm," Nubia expressed. "The song is about really just letting go and letting things happen naturally when it comes to relationships and releasing serotonin through the process. I named it Trip because who doesn't like going on trips? It's always a good time—an escape from reality. So, I contacted (Producer) Danny with just the skeletons of the track—the idea. He created the music, I filled in the blanks and boom Trip was born."
"Nubia came up with the lyrics and I came up with different concepts of what it could sound like. She ended up choosing this version and Trip was born. Recording it was a very organic process and I believe you can hear and feel that in this record," states Danny (aka DSII) about their collaboration.
Since she was a young girl, Nubia Emmon has built up a solid resume of performances in and outside of Texas, songwriting, as well as supporting and collaborating with other artist while racking up awards along the way. This latest project is yet another testament to her creativity, work ethic and dedication to her craft. We invite you to take a Trip with Ms. Nubia Emmon – you will not be disappointed.
YOUTUBE LINK: https://www.youtube.com/watch?v=JX-5NwXN6rY
SPOTIFY: https://open.spotify.com/track/4xFh5173PQIEW13o0TKfal?si=31dfe4b40c82405f
WEBSITE: www.nubiaemmon.com
Contact:
Official website: nubiaemmon.com
Manager, Karriem B. Williams, Sr.
Voice: 404-314-9113
Email: Karriemwilliams@gmail.com