1st Release in 14 Years
Northport N.Y. – M.C. Records is thrilled to welcome back The Queen of Blues/Rock guitar Joanna Connor to the label. Six String Stories will be released on August 26 and marks the Chicago guitarist's first release in 14 years. Current shows are in Illinois, Michigan, Iowa and Oklahoma. She will be doing an east coast tour in October, scroll down for all her dates. It was about a year and a half ago that Joanna and her Les Paul became a YouTube sensation with millions of views around the world. You can view the 2:47 guitar shredding video that was recorded at the North Atlantic Blues Festival just click the photo.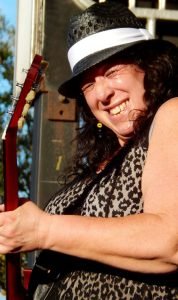 Six String Stories is the one that the fans who pack her hometown gigs have been waiting for. You'll still hear the scorching solos– but there's more to Joanna Connor than that. The disc's ten tracks include tastes of gospel, rock, soul and funk; all with the gutsy singing and heartfelt playing that have always been her trademarks.
Click the cover to check out the entire recording!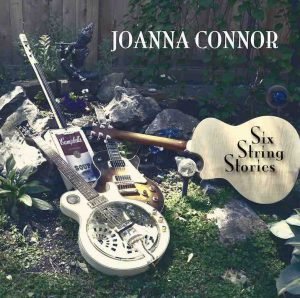 Joanna Connor might be the best—or most original—blues-based slide guitar player you're likely to come across today. Or tomorrow. – Guitar World
Joanna Connor is celebrating 30 years of being in Chicago. Since her arrival she has toured in 25 countries and 49 states. Joanna was the first artist not on a major label to be signed to an endorsement deal by Gibson Guitars and Victoria Amps and has been featured in every major city newspaper and guitar magazine. Connor composed the soundtrack for Australian documentary "Being Dad," and has shared stages with the likes of Jimmy Page, Los Lobos, Robert Cray, BB King, The Doobie Brothers, Kenny Wayne Sheppard, Son Seals, The Neville Bros and a host of others. Click here for her complete bio: http://www.joannaconnor.com/about_joanna/
 Joanna Connor is a popular Chicago blues musician with the ability to pull off an absolutely face-melting guitar solo. – The Daily Mirror
Complete dates can be found at her website – http://www.joannaconnor.com/gig/
August
Thursday, August 11th-13th  – Kingston Mines  – Chicago, IL 60614
August 18th – Blues In Central Park Summer Series – Decatur IL – http://www.decaturmagazine.com/blues-in-central-park-2016/
Thursday, August 25th-27th  – Kingston Mines  – Chicago, IL 60614
Tuesday Aug. 30 – Kingston Mines  – Chicago, IL 60614
Wed. August 31 – House of Blues – Chicago, IL
September
Friday, September 2nd – Dusk Till Dawn Fest – Rennitsville, OK
Sunday, September 4th – Annual Bowlful of Blues – Newton, IA 50208
Monday September 5th – House of Blues – Chicago, IL
Thursday, September 8th-10th – Kingston Mines  – Chicago, IL 60614
September 16th – Callahans Music Hall  – Auburn Hils, MI 48326
Saturday, September 17th – Old Town Pub – Chicago, IL 60614 [map]
Thursday, September 22nd & 23rd – Kingston Mines  – Chicago, IL 60614
Thursday, September 29th-Oct. 1 – Kingston Mines  – Chicago, IL 60614
***