Aluron's meticulously constructed album "Devotion / Fever Dreams" runs the gamut from dense bursts of intricate glitch to expansive ambient, from cinematic soundscapes to retro-synthwave, and avant-garde electronica to everything else in between, making it feel like a far more elaborate musical journey than its epic 31 tracks already suggest. Aluron is able to work with deliberate tempos and straightforward, loping beats, but also flirt with impenetrable song structures, complex rhythms and richly layered vocal harmonies when the occasion calls for it. The composer and producer plays with gentle, melodic keys and bouncy beats just as easily as she explores plunging into descending auras of slow-burning reflections.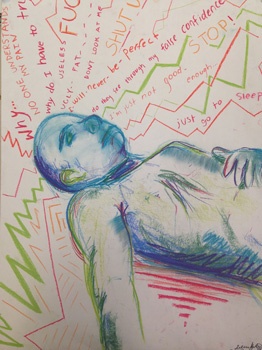 In short, Aluron is a multi-genre, multi-timbral mastermind. Her music flourishes whenever she layers in divergent textures to create a multidimensional spatial quality. She often summons cavernous atmospheres by pairing deep low ends with rippling, high-frequency synth filigrees – mixing the layers with mellifluous voices so they feel miles apart, yet closely knit. This explosion of sound creates shards of digitized effects, which pull your emotions in all directions at once.
"Devotion / Fever Dreams" is absolutely bursting at the seams with energy. The percussion drives that, keeping the tempos ramped up the majority of the time while allowing for critical pauses and momentum swings that prevent the album from ever arriving at a point of stagnancy.
Aluron laces that recipe with a variety of intriguing techniques, fitting inventive, texture-rich atmospheres alongside shimmering synths and reverb-drenched vocals. All the ideas swirling around this release give it an aura of complexity. "Devotion / Fever Dreams" is an elaborately engineered album sprawling in scope and is endless in depth.
With each cut hovering in the two-to-four minute range – except for a couple of exceptions – compositional diversity marks its greatest asset. Each song twists and turns compulsively, shifting direction on a whim, yet not too frequently as to totally disorient, while allowing the listener ample time to sink into each unique atmosphere before Aluron redirects focus elsewhere.
The praise that will undoubtedly, be bestowed on "Devotion / Fever Dreams" will certainly befit it.  While the musical pieces are amazingly dense, it manages to avoid sounding too much like it. You can listen to any song multiple times and still discover small quirks that evaded your senses on all of the previous run-throughs.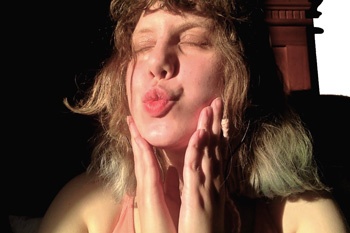 Apart from all the great instrumental work, when Aluron sets her mind to vocally propelled tracks, such as the back-to-back triad, "Psalm 28", "Desdemona" and "Able Lies", her airy, ethereal voice soothes and  captivates.
However this album intrigues and satisfies right from the opening track, "Anima", with it's wall of synths and thundering percussion. "Matthew Frank" completely flips the sonic template to introduce an energetic ethnic-styled rhythm and choral voices.
"Jelly Bloom" again pulls in completely different direction, to further demonstrate Aluron's extended versatility with styles and sounds. This could easily be a James Bond movie theme. With over an hour-and-a-half of music at our disposal, it's almost impossible to cover all the sonic angles "Devotion / Fever Dreams" reaches.
It's fair say however, that Aluron exceeds expectations in just about every angle of her creative input and technical execution. The vocal arrangements shine brightly on "Even In a Static Sky ( I Love You)", as they do on "In Search of Pangea" and "Forwords".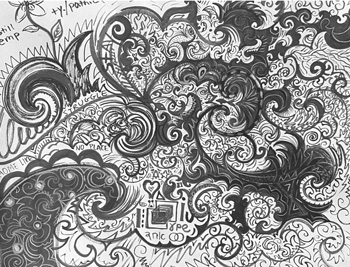 The complex drum programming hold its own on "Soup de Journey", "help me, Natajua", and "Olga Zinger". The lush orchestrations mesmerize on "Oh My Friend", "For Sam and Sadie", and "So We Survive" but these are only snippets of the endless highlights that unfold across these tracks.
The subtle melodies over the polyrhythmic and multi-timbral foundations are fantastic throughout "Devotion / Fever Dreams". In fact, Aluron dazzles us with technical mastery, rhythmic complexity, and melodic sophistication. Hence, the question naturally arises – just who is this fascinating and mysterious musical figure?
Lillian Gutoff came up with the artist name 'Aluron' in therapy. While discussing the concept of an alula being the bastard wing, or thumb, of a bird responsible for directing its direction in flight and landing, her therapist noted how the aileron of an airplane mimicked that anatomy.
Aluron came from putting the words alula and aileron together. She learned how to make music with a DAW, in a Vermont community college course, but didn't start to compose relentlessly until the calamity of the pandemic sanctioned isolation. Aluron uses the iconic software programs, Garageband and Audacity, to bring her compositions to life.
OFFICIAL LINKS: SOUNDCLOUD – INSTAGRAM