In the ever-evolving world of hip-hop and rap, new talents continue to emerge and shake things up. One of the freshest voices to burst onto the scene in recent memory is 17-year-old rapper, AT. Hailing from Manchester, UK, this rising star is quickly establishing himself as a force to be reckoned with. With his latest release, "I Know," AT demonstrates why he's one to watch in the coming years. As usual, he tackles themes that are both personal and relatable, talking about loyalty, ambition and relationships. But what really sets him apart is his ability to convey these experiences through his music in a way that feels authentic and heartfelt.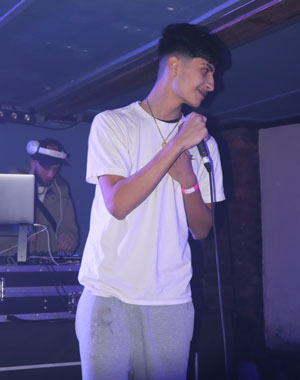 Perhaps most impressive about AT's work is his impeccable delivery. His flows are smooth and enticing, drawing listeners in with ease. And his vocal skills are nothing short of remarkable, as he effortlessly weaves intricate stories through his melodic delivery.
AT's "I Know" is a powerful and introspective track that delves into themes of trust, loyalty, and self-preservation. The track's opening lines set the tone for the rest of the song, as AT asserts his independence and makes it clear that he doesn't rely on anyone else for success. The clock is ticking, and AT is on a mission to grind and make it on his own.
Throughout the track, AT showcases his ability to convey deep emotions and experiences through his lyrics. He touches on the pain of heartbreak and the dangers of love, as well as the importance of staying true to oneself and not letting anyone else bring you down. AT's lyrics are raw and authentic, and he's not afraid to show vulnerability.
The chorus of the song is particularly powerful, with AT emphasizing his unique perspective on life and the world around him. He knows things that others don't, and if they were aware of his knowledge, they wouldn't look at him in the same way. It's a bold statement that highlights his individuality and the importance of staying true to oneself.
 "I know shit that you don't and if you knew what I know, you wouldn't look at me the same," is a powerful statement that speaks to AT's confidence in his own abilities and experiences. He's been through a lot, and he's not afraid to own it. Throughout the song, AT references his struggles with relationships and love, revealing that he's been hurt in the past and has learned some hard lessons.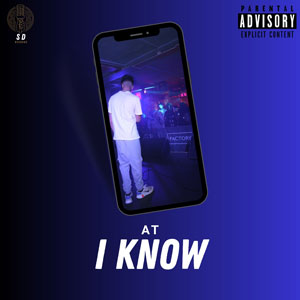 AT acknowledges the danger of getting involved in love and relationships, but at the same time, he recognizes the value of his friends and the loyalty he has for them. It's a message that resonates with many, as most people can relate to the highs and lows of love and friendship.
What makes "I Know" stand out is the way AT delivers his message. His flow is smooth and effortless, and his rhymes are on point. He also switches up his tempo and style throughout the song, showcasing his versatility as an artist. Overall, "I Know" is a powerful track that showcases AT's talent and potential as a rising star in the world of hip-hop and rap.
If you haven't already had the pleasure of discovering AT's music, now is the time to do so. With the industry landscape shifting towards streaming and social media, it's never been easier for talented artists to make a name for themselves. And AT is poised to do just that. So catch up on his previous releases and get ready for what promises to be an exciting journey with this rising star.
OFFICIAL LINKS:
AT INSTAGRAM: https://instagram.com/at_gmcr?igshid=ZjE2NGZiNDQ=
SD RECORDS INSTAGRAM: https://instagram.com/sd_records_?igshid=ZjE2NGZiNDQ=