As Blue Soul Ten, Claye Greene creates lush and flowing jazz compositions juxtaposed against soulful textures, ambient atmospheres, and throbbing hip-hops beats. In the game for over two decades, he made serious waves in 2015, with his debut solo album 'The Unspoken Warrior', and since then has been sketching his own musical world. Within the producer's work, there's both a welcoming, consuming sense of introspective contemplation and exemplary musical performance. Claye, who also runs the Greenehouse Music platform, has always pushed himself to deliver flawless music, so unsurprisingly his previous albums have all been critically lauded.
Everything on Blue Soul Ten's latest release, "This Is Worth It" – set to drop officially during May 10 – sounds amazing. The beats are crisp and crunchy, the keys, brass and guitars are tight and catchy, the basslines are deep and wobbly, and the vocals floating above it, all take center stage.  The unrelenting perfection that reigns across the thirteen tracks, sound faultless, sublime and flows together effortlessly. The opener, 'All we need' (featuring Syauqi Destanika), is full of delicate electric piano runs with the wistful vocals delivering a performance that generates chills and wide grins in equal measure.
'Different than I'm used to' (featuring Skyler Harris), unfolds on gently skittering percussion, warm shards of brass, and tasteful guitar interludes. Much like the opening track, the lead vocals continue to draw attention. The sultry and swaying rhythm of 'You should know by now' (featuring Dennis Lorenzo), boasts a meticulously delivered R&B melody, and is a remarkable experience brimming with emotion and technical joy.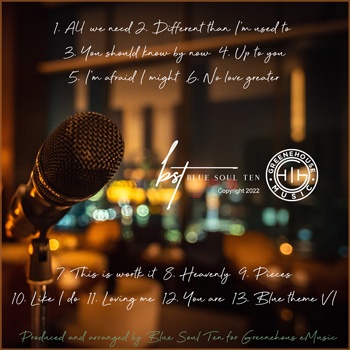 'Up to you' (featuring Shamain) is another soul-stirring composition that will goosebumps on the back of your neck. The dialog between Blue Soul Ten's piano and the resonant vocals are sublimely captivating.
'I'm afraid I might' (featuring Syauqi Destanika) rides on a straight slamming beat and another exquisite vocal performance, which at this point signals all the vocals is an outright album highlight. 'No love greater' (featuring Saniyah X) thrives on intensely busy percussion, soulful horns, and an impeccable spoken-word delivery.
There's always a pleasant aura coming off the music. Whether its the soothing sounds and fluttering notes, or the funky grooves and mesmerizing melodies, "This Is Worth It" always has something unique to offer. All of which brings us to the title track, 'This is worth it' (featuring Dennis Lorenzo), which turns up the rhythmic dial, in a beautifully layered arrangement. There is no doubting the technical work at play in this song. The brilliant auras of sound and feeling swirl together to create moments of joy and vibrancy.
'Heavenly' (featuring Skyler Harris and Ascent), highlights both melodic singing and rapping, in a bright and shimmering amalgam. The bundle of ruminations and sounds that mesh without being incohesive, is a testament to Blue Soul Ten's chops.
'Pieces' (featuring Brail Watson and Ascent) introduces a slow-burning composition that builds into a dynamic, articulated and powerful musical statement. Blue Ten Soul's piano dominates 'Like I do' (featuring Dennis Lorenzo), as it blends with the slowed-down vocal passages.
'Loving me' (featuring Shamain) keeps the mellow soulful momentum going in a beguiling tapestry of everything Blue Soul Ten's does so well. It hits a languid groove, and once more shows how well the producer works with his features.
This leads to 'You are' (featuring Brail Watson) – a spacious, elegant and sweeping track which gradually unfolds and flourishes. The album closes with the instrumental "Blue theme VI" that softly blooms and sparkles with firelight warmth.
Ultimately, "This Is Worth It" is everything that we've come to expect from Blue Soul Ten: a collection of songs so expertly composed, performed and produced that we are left scratching our heads and wondering if anyone else should even bother to try an do better. Every moment subverts your expectations, whether it is the melodies, arrangements, chord progression, and rhythms. Blue Soul Ten is far and away one of the smoothest sounding producers of the current musical moment.
Follow Blue Soul Ten on FACEBOOK , INSTAGRAM and GREENHOUSE MUSIC