Burny Kev is an upcoming rapper from Worcester, MA. The artist is talented at the first thing he does – rapping, but his album "Chocolate Headed Baby", is much more than that. He blends rap and R&B on this record with just the right amount of each together. The project has a sonic and lyrical cohesion with a few features thrown in as well. With a chance at solidifying his place as one of the game's premier rising stars, will Burny Kev seize the opportunity? From its daring vocals to its mind-bending flows, Burny manages to improve on every facet of his game.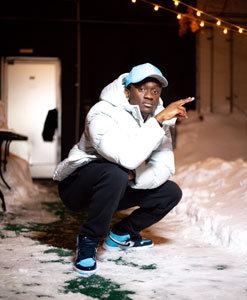 The intro track "Best Tape Next Tape" sets the album off to somewhat of an urgent tone, and soon after its follow-up "Since 96" there's nonstop action going forward. Burny Kev at his best when he's rapping in his raw style with a steady cadence, but he also proves he can dabble into the melodic side of the spectrum as well. Building on this solid foundation, Burny only continues to show off his talents. On "EZ" ft. Saré he gets introspective and soulful, backed by a smooth production.
"Quick Intermission" ft. Kayward shows the creative freedom of Burny Kev as the Worcester star utilizes a big band cinematic instrumental to create an unpredictable rap anthem that fuses the best of both genres.
The layers of depth flashed within songs like this add another component to what makes Burny such a threat on the mic. "Deuteronomy" testifies to this as through an intoxicating storm of sonic ideas, Burny segways us though the arrangement, which transcends between the spacey production and the surefooted flow.
Fortunately, the creativity keeps flowing from here with "My Little Baby". Between the constant tone switches and the unforced jumps between conversational nuances and well-layered verses, this is another pinnacle of Burny Kev's artistic melting pot.
Burny offers up an honest and dynamic delivery as he draws on varied musical influences on "Feen For It" ft. Neneh Asta. Refusing to put himself in the box of a genre, Burny Kev's has put together an album that's truly one-of-a-kind.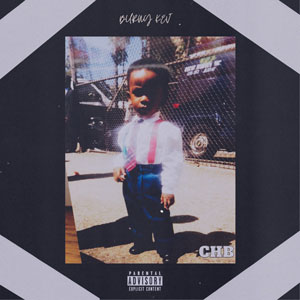 The production begins with a swell of keys and strings on "Smooth Operator". It's a textured build up that wraps around Burny Kev's voice as the first verse begins. A fluid wordsmith, his deliveries never feel jagged.
He possesses the rare ability to articulate his emotions in such a palpable way creating a deeply moving experience. Listeners are alerted of Burny's potential greatness all throughout this recording. His pen is already doing things far beyond the threshold of many of his peers.
"Real 'S' Word" showcases all of Burny Kev's aforementioned strengths along with potentially his best singing on the record. Burny knows what he wants to say and exactly how to present it to make it as impactful as possible on the album closer "Small Talk".
No doubt, he has given his music a singular sound that makes him unique and exciting. Every great rap artist has a seminal work – a project that, for better or worse, serves as their official introduction to the wider Hip-Hop community and the creative anchor for which all subsequent projects will be judged against. "Chocolate Headed Baby", sounds like that piece of work.
The record is an exhibition in flow and displays a good part of Burny Kev's lyrical repertoire; but it also previews an artist with a distinct, immersive vision for himself that "Chocolate Headed Baby" ultimately brings to life. It shows an artist in tune with technicality and tone, as well as substance and vibe.
OFFICIAL LINKS:
Instagram : https://www.instagram.com/bbabyboykev/
Twitter: https://mobile.twitter.com/Burnykev
Facebook : https://m.facebook.com/bbabyboykev/?ref=bookmarks
Apple Music : https://music.apple.com/us/album/chocolate-headed-baby/1600624539
Spotify : https://music.apple.com/us/album/chocolate-headed-baby/1600624539
YouTube music video : https://m.youtube.com/watch?v=Dtk3P0wqLmA