Over the years, Socoliuc Andrei Marian aka DEEPSYSTEM has based his success on the growing popularity of Latino sounds and rhythms in the European and global cultures. He infused that classic reggaeton flavors with EDM and Pop styles, turning out earworm and hip swaying hits constructed for dancefloors and airwaves. This has done well for him and has elevated his success and status, to the point that DEEPSYSTEM can be considered the undisputed underground leader of this sonic movement in Europe, and certainly one of its most prolific creators and performers. "Dimelo" is the brand new single that DEEPSYSTEM brings to the table, and it has all the expected qualities from a tried and tested artist.
Powerful flashes of authenticity appear in a track that is sleek and commercially minded. Lacquered in a high-sheen gloss designed for feel-good radio play and close-up dancing, "Dimelo" rides not only on its Caribbean rhythm, but on DEEPSYSTEM's extremely marketable vocal performance. Once again, this new release from the artist, delivers a great soundtrack for the summer, hitting all of the right notes. There is a powerful thread that connects the song to the rest of DEEPSYSTEM's wonderful back catalog.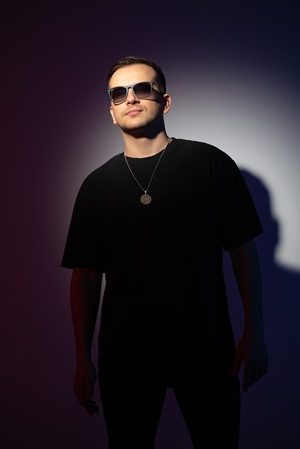 The tropical beat is understated but in full force. "Dimelo" is a catchy track and one that demands to be turned up loud. As always, DEEPSYSTEM has the charisma and charm to carry this kind of song off with effortless ease, as he unravels the themes of passion, desire and longing.
There's just something about DEEPSYSTEM that's magnetic and he's a performer of the kind we haven't seen in a very long time. He uses his sexy, seductive charm and smooth pipes to conjure up a hit with "Dimelo".
If you don't speak Spanish, don't feel bad – you don't really have to for this one. "Dimelo" is sleek, percussive, and reggaeton to the core. This groovy joint will add some spice to your playlist regardless of the language.
DEEPSYSTEM's best attributes are his awesome vocals, which are expressive and chocked-full of romantic confidence and passionate swagger. There's something about the crisp way he deliver the lines in the verse and chorus that's ridiculously addictive.
With an impressive arsenal of supremely catchy, dance-pop hits already lining his back pockets, DEEPSYSTEM never ceases to amaze me with the new pieces and lyrics he creates. DEEPSYSTEM and Shot Records have an absolute stranglehold on the genre's sound like no other musical crew in Europe. It certainly drops into a familiar place with its rhythmic patterns, but the accompanying melody and the way the drums hit make it easy to forget about originality.
Moreover, DEEPSYSTEM's vocals are often fantastic, in unfolding the lyrics he wrote alongside Joel the Alien. When the lyric sheet is translated, it reveals a genuinely touching take from these two writers. If we're having "Dimelo" go up against the most obvious comparisons in the big American Latino stars, I genuinely think this track stands out proudly.
DEEPSYSTEM sounds like his out to prove he understands the Latin music game, and his best efforts, like "Dimelo", always rise to the occasion. The superb supporting video, was directed and edited by Andrei Lesan.
OFFICIAL LINKS:
Instagram: https://short.deepsystem.ro/instagram
Facebook: https://short.deepsystem.ro/facebook
Twitter: https://short.deepsystem.ro/twitter
SoundCloud: https://short.deepsystem.ro/soundcloud
Spotify: https://short.deepsystem.ro/spotify
Website: https://deepsystem.ro