G33 has studied the game to a tee and has all of the natural talent that other rappers spend a whole career wishing they could boast. Growing up in tough lane, he has spent a lifetime waiting for the moment to show people his struggles, his triumphs, and all the lost ones he's rapping for. He spent his youth changing houses and schools. His father ended up in jail, while his mother took off to Australia, after losing her brother to a foul play incident. G33 grew up with a young crew listening to hip-hop, while Slim Shady was coming up. They spent their time street racing, drinking and partying, burying 13 friends along the way.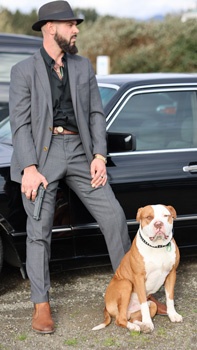 G33 passed most school certificates, however, failed to pay certificate fees and therefore did not graduate. He linked up with his father and worked in construction, while fronting a metal band. He eventually underwent spinal surgery after 15 years in the trade, and now stands with six titanium bolts. It was during his time of convalescence that he turned towards his creativity and music. He went on to study real estate to fund his career as an independent artist.
G33 is currently working with Henry AZ, TY & Tom Francis, among others. His latest single "Bhad Bhabie (Only Fans)" has been making an impact with both fans and the industry, as the rapper delves into the young superstar's rise to fame. "Eighteen on the scene lil' Bhad Bhabie. Remind me of Britney if you seek Amy. Got them lil' boys gettin' mad horny. Everybody wanna' see you bend it back honey. Smoking Newport drivin' Lamborni. Damn Dr. Phil call it blasphemy. I can see the future like Matt Groening. She can buy everything you have homie. Everything you have," spits G33 as he unabashedly unfolds the narrative.
This is electrifying rap that puts all the other contemporary rap poseurs to shame. It makes for an exhilarating listen front to back, solidifying G33 as a lyrical force, and lining up his career for bigger things to come.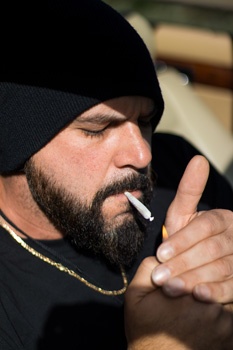 It's a crisp, resonating exhibition from an emcee with talent to burn. Expertly thought through, the production matches rugged club elements to something a little deeper and more thoughtful, and it's this balance that seems to serve the track so well.
On "Bhad Bhabie (Only Fans)", G33's punchlines, his wordplay, his delivery, and the nuanced flows that he raps with, are all too impeccable to ignore. He continues to prove he is an exceptional wordsmith.
There is no disputing that he has arrived with all his wares, to craft a masterpiece. Paired with a crisp production, the track is an ambitious and an incredibly focused exposé on Bhad Bhabie's endeavors. It shows G33 to be one of the most promising players in the game right now. Unlike some artists who exist purely for hype and ego, G33 carefully approaches himself as a multi-faceted, forward thinking creative craftsman.
OFFICIAL LINKS:
https://www.instagram.com/iam.g33/
https://www.youtube.com/channel/UC5nIOAav2PkNlhnjVcwGFfA
https://open.spotify.com/track/5Pkl81ilWDNKmBgeRwRiJ0?si=lL5u5Gl5Rsy5_3zf_g3JfA
</