How do you break your neck three times before you are 28 years of age, and still survive to make one of the most creative, original and exiting hip-hop albums of 2022? Ask Jake From SpaceFarm, a singer-songwriter, producer and DJ from Detroit, Michigan. On July 23rd 2021, after flipping his truck and breaking his neck for the third time, Jake had a time travel vision and a spiritual awakening that pointed him towards music and fed him with valuable information. Since that day he spent every second working on his music. This meant sacrificing everything else, including his home, his construction company and his racecar.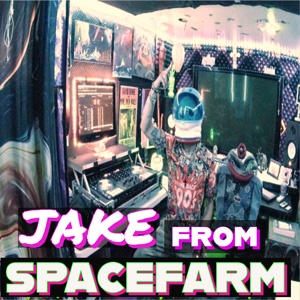 Jake From SpaceFarm moved into a storage unit where he built a studio and slept on a couch and inside his truck, before finding an Rv/Camper for 200$. He fixed the camper, and built a studio inside it, alongside a bedroom for his sleeping space.
This, is where he taught himself everything he needed to know on the production side, which would eventually lead to the release of his music. His new EP, "Alien OutKast Vol. 1" is concrete proof of that incredible transition.
If your expectations are running high now, there is no need to worry. Filled with clever wordplay, impressive flow switches and infectious beats, Jake From SpaceFarm does not disappoint on "Alien OutKast Vol. 1".
Moreover, the creative freedom he affords himself, allows Jake to weave his qualities into an expansive narrative, one that reflects the state of his craft in an engaging way. Despite being only 5 tracks deep, this EP has a great deal of lyrical and musical content to sink your teeth into.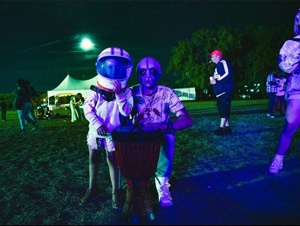 Opening with "The Realist Ones Die Young", Jake From SpaceFarm immediately puts us in the center of his musical universe.  He explodes into intense lyricism accompanied by a gritty rapping voice, which in turn is backed by an infinite number of layered voices and vocals, on top of a throbbing mid-tempo beat, making it challenging for listeners to not nod their heads in tempo.
The next song, "Howl At The Moon", shows Jake From SpaceFarm's awareness of his artistic status and the expectations that music fans may have on him, as he moves it to the next level here.
In just over four minutes, he builds an electrifying aura around this song, with added catchiness, a funkier beat, and some real clever wordplay. The funky basslines and momentum pushing percussion keeps coming, on "Let My Music Rain", which slaps with a kinetic groove.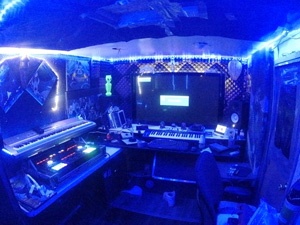 The EP continues to impress and drive Jake From SpaceFarm ahead of his contemporaries in terms of talent. He pulls off a convincing storytelling performance, which elevates the song completely. This is one of the highlights on the EP and Jake successfully manages to pull explicit language into track without detracting from the overall listening experience.
Jake From SpaceFarm has such a firm grip on his game, and stands out from his contemporaries in meaningful ways. It's hard to think of others in the genre, with such a command over flow, wordplay, and beat production. "Save My Soul" completely flips the template and leans mainly on Jake From SpaceFarm's mellifluous singing and a bouncy up-tempo electro-styled beat. It's clear that this EP is built to impress and to last.
All across "Alien OutKast Vol. 1", Jake From SpaceFarm successfully proves that not only is he a multitalented artist, singer, songwriter, and producer, but that fans of hip-hop should be excited every time his name is mentioned for a new release, as he is pushing the genre forward in the best way possible.
OFFICIAL LINKS:
www.Youtube.com/JakeFromSpaceFarm
www.Tiktok.com/jakefromspacefarmm
https://www.beatstars.com/jakefromspacefarm
https://open.spotify.com/artist/2bcUeWjeD1SJEdPZH1ycpy?si=9rYltS-NQ3yWifh-4IIiFw