The EP "Cosmic Salt" by music producer, instrumentalist, engineer, singer and rapper, Luccini Sweets, is fully worked, sublimely tweaked, and scrupulously perfected. The recording would be vital in any time, but in 2022, it's downright restorative. Everything about this record reaches into the past to bring us what the present desires and the future needs. All of Luccini Sweets' trademarks are here, including those floridly elaborate vocals and harmonies. This Nantes, France-based Congolese creative, makes tricky music sound easy, and his intuitive music skills help lift the grooves on each track into the realm of the transcendent.
Born to an artistic family – his father was considered one of Africa's most influential vocalists and prolific songwriters – Charlie Luccini Sweets started writing songs and composing music at 13, before taking the journey on years of study, to become a professional artist. He is also an award-winning director.
Luccini Sweets has an almost supernatural power to combine influences into a coherent whole, while also conveying tremendous power and gravity via complex melodies and arrangements which sound deceptively simple, and therefore accessible even to the casual ear.
EP opener "Ethereal Haze", is built around an entwined synth and percussion groove. Much like the defined openness of a jazz composition, this tight song offers room for deeply technical, as well as eclectic musical and vocal turns.
"Inner Stellar" ft. James Izcray rolls out on shimmering piano motif, and a slapping drumbeat, as the vocals echo gently across the soundscape. This, together with "Escalate" is a prime example of Luccini Sweets' uncanny ability to push and innovate without ever straying too far, sonically or thematically, from his influences. The freewheeling interaction between the music and Luccini Sweets' adventurous voice play, is just plain entertaining.
An artist of uncompromising power and originality, Luccini Sweets clearly ignores pop trends, as he shows that he will not conform to the expectations of the music industry.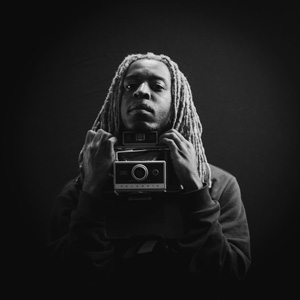 He is a genius of rare distinction, and this streak is essential to a song like "Elephant" ft. Tismé, which is an absolute standout, when it comes to being a captivating song with an unforgettable hook-line in the chorus. To be fair, the lush wall of harmony presented on "In The Mood" ft. Keysuna, is just as impressive.
It's by this point in the record that you have to humbly concede that Luccini Sweets has already lived up to the impossible expectations you may have foisted upon him due to any pre-release hype. "Cubits Bougee" slinks along with unparalleled effortlessness and an exotic flavor, which leads to the predominantly instrumental closer "Borealis". Here Luccini Sweets displays his deliciously tasteful production work perfectly. It presents a compelling end to the proceedings.
Technically, the EP "Cosmic Salt", is an alchemic distillation of chill, shimmering tones and textures, gently skittering rhythms and twisting melodies. The result of patient and meticulous refinement. On the other hand, Luccini Sweets' vocals are lucid and delightfully crisp, delving confidently into alternative, neo-soul and jazz territories.
"Cosmic Salt" establishes itself as a singular identity, so distinct that it draws no comparisons from peers and contemporaries. Artistically, Luccini Sweets is interested in being himself, and extending the musical conversation beyond the narrow mainstream boxes.
OFFICIAL LINKS: WEBSITE – INSTAGRAM – APPLE MUSIC – SOUNDCLOUD