Born as a native of Paterson, NJ, Negus Reign started out writing poetry at the age of twelve. A skill that forms the foundation of his art as a rapper. He has since grown into a majestically gifted emcee securing top spots on the Reverbnation charts, as well as five appearances on the "Coast 2 Coast" mixtape series and two appearances on the "Who Got Sauce" mixtapes. Influenced by the likes of Nas, Notorious B.I.G., Jay-Z, KRS One, Rakim, Big Pun and Big L, Negus Reign continues to relentlessly build his fanbase, while mining the digital music and social networking sites with a focused acumen. Currently he brings us his latest single "Hamartia".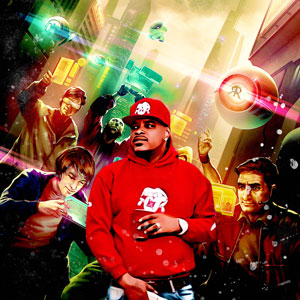 The debate within the hip-hop community concerning the most talented emcees in the game right now, requisitely must include Negus Reign name, and this is evidenced by the new single, "Hamartia".
Negus is known for his speedy and lyrically dense bars that match and often exceed the skills of many of his seasoned peers. He is making a robust case for being one of those rare, special artists that approaches the mic and continually exceeds expectations.
Negus Reign's lyrical ability is not only demonstrated in his ability to craft explicitly descriptive bars into cohesive tracks like "Hamartia", but also in how it is tied together by his utterly impressive pace.
The aspect, though, that I think sets Negus apart from his contemporaries is his ability to diversify his flows within cerebrally inclined bars, which clearly alludes to the fact that his pen-game matches his performance excellence ounce for ounce.
The opening bars of "Hamartia" features the sort of technical rhymes that simply is not something most rappers possess the ability to do so smoothly. These sort of lyrically dense bars are a clear strength of the single, which rides on a stripped down, airy and atmospheric production.
Negus Reign stays true to his talents as a lyricist and pushes his words and storytelling ability to dominate and control the track. This kind of dedication to the art is undoubtedly a sign of a solid hip-hop culture, and an understanding the core qualities of the genre.
The deeper dedication to hip-hop that Negus Reign displays on "Hamartia" makes this project a very enjoyable listen. It's rare that an artist impresses me the way Negus did on a first listen, but when it comes to the actual skill of rapping, in my eyes, Negus Reign's flow, speed and overall technical ability is difficult to match right now.
He is something of an anomaly in the current scene. Negus has all the traits of a lyrical rapper in a world of mumblers. So he is riding in an almost exclusive lane, inhabited by a selected handful of the elite.
Hence, being in a restricted lane, means that Negus Reign will have many eyes on him, and first impressions are critical. It's safe to say, then, that Negus impresses plenty and quickly on "Hamartia". Here Negus Reign takes us on a journey through the status of his craft by cutting the fat and finding a fine balance of both, his writing and performance skills, as well as the massive potential he still harnesses.
OFFICIAL LINKS:
www.negusreign.com
IG: @negusreign_bhm
Facebook: @darealnegus
SoundCloud.com/negusreign