When you hear people complaining about the lack of talent progression in today's hip-hop scene, they clearly haven't been listening to Martin Ortega Jr, or rather, the artist known as OrtegaGotGame. An independent artist and entrepreneur, able to create records in both English and Spanish, the Mexican/American rapper has been impressing gaming and all music platform communities, as well as Latino music audiences with his recordings. Moreover, the National City, CA based artist, runs an online store selling own-brand merchandising, another business selling online goods, and a gaming channel where he holds his live streams on Twitch, among other initiatives.
Recently OrtegaGotGame dropped his single "Love is Deadly". Each project he puts out has only elevated his craft and notoriety, and this one is no different. As you listen through his catalog, you'll notice that OrtegaGotGame is at his most versatile. He'll often pull directly from his personal life and outlook, while the sounds are heavily influenced by his diverse musical background. Most importantly, there are no skippables on his playlist.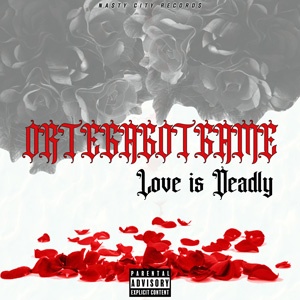 In the midst of this bunch of engaging songs, the new "Love is Deadly", truly stands out. When compared to the uninspired rap, trap and R&B sounds that some have come to believe themselves representative of the entire genre, this single serves as a reminder of the fresh air and originality still out there.
On this R&B/Soul flavored cut, OrtegaGotGame shows that he can sing better than most rappers. Unassisted by copious sound editing and overwhelming effects, he sets himself apart from the pack.
Don't be distracted by the singing talent alone, as OrtegaGotGame can create unique rhymes and pack his verses tightly with clever wordplay and easy-going melodies. "Love is Deadly" rides on a chill and spacey groove-driven beat produced by RAN, which fits OrtegaGotGame's languid and sultry style like a glove. Anyone tired of overused rap beats should be refreshed by what the producer has been able to sonically accomplish here.
This beat is hypnotizing and soulful, allowing OrtegaGotGame to vocally flow across it effortlessly. The chemistry between the beat and the singer is so incredible, making the track incredibly infectious.
OrtegaGotGame's slower ear-warming delivery emphasizes his enticing vocal cords and his effortless confidence. This is all-around one of the best, most compelling musical pieces of it's kind out right now. It feels luxurious and ambitious, as the Mexican/American rapper keeps love and passion on his mind.
"We can catch a vibe baby ride on me. Baby do you like it when you slide on me. I don't want your love unless you down for me. So you telling me you ready to die for me. Girl, you're crazy. Fuck around and you can have my baby," sings OrtegaGotGame as he unfolds the lascivious narrative. If any people were unfamiliar with who OrtegaGotGame was as an artist coming into this album, he does his best to cover his wide skillset in the track's short runtime. OrtegaGotGame's future is bright and this single release, is just another brick in the wall for him.
OFFICIAL LINKS:
Follow ORTEGAGOTGAME on all platforms
https://distrokid.com/hyperfollow/ortegagotgame
Prod. @RAN
Connect With ORTEGAGOTGAME: https://linktr.ee/ortegagotgame
Follow ORTEGAGOTGAME:
Twitter: https://twitter.com/OrtegaGotGame
Instagram: https://instagram.com/OrtegaGotGame
Follow me On Soundcloud
https://soundcloud.com/ortegagotgame