PUPPENGOTT ("Doll god") is an industrial black metal project from Germany, founded in 2020 just before the pandemic. The artist behind the project is Jonas Kolb (other projects: TBSP, MACHYYRE, XCHNUM MIIIMIIIKRY), who wanted to unite the sounds and visions of all his different projects within the realm of PUPPENGOTT. The project's album, "Was ist vom Leben zu erwarten?" ("What to expect from life?") is an ambitious undertaking, one in which elements of black metal and dark industrial sounds play dominant roles but don't exhaust the musical ingredients that PUPPENGOTT has woven into a richly textured musical tapestry.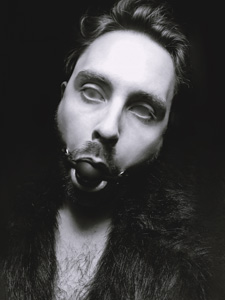 Dynamic change, epic eerie atmospherics, and harsh vocal interludes are hallmarks of "Was ist vom Leben zu erwarten?", with carefully crafted variations in timbre, tone, and mood being a significant source of the album's considerable appeal. The emotional power is as much a strength as the malicious crushing ambiance of these tracks, and the production prowess demonstrated in their execution.
You'll get a good sense of PUPPENGOTT strategies and skills from the opening track, "Die Kammer", though it's not a complete forecast of what comes later. With grim building synths it establishes a mood that is brooding, bleak and malevolent, made even more harrowing by the vocal tandem of guttural roars and acidic laughing shrieks. That thread is passed on to "Erster Schnee", where craggy bass notes, rippling drums drive the template.
Jangling guitar notes and sub-bass sounds shift the mood to a crepuscular crawl on "Hebamme", only to have PUPPENGOTT take you further down the rabbit hole through a feverish display of growling and sparsely ringing guitar manifestations, which steadily expand, on "Millionen Raben". An array of extremely dark sensations cloak "Porträt", with the spoken word vocals taking on exceedingly ominous tones.
The next song, "Mater", which begins with percussion, seems to allude to something vibrant and unyielding, even though the tempo remains locked into a skulking pace. "Zu Tisch" unfolds with the continuing linear theme of the album, which is wrapped inside a sonic aura of ominous, vicious, and menacing elements.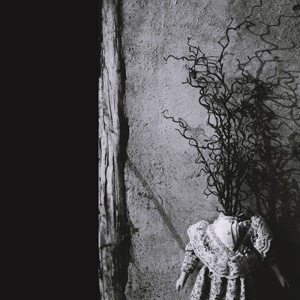 A sudden stirring fanfare of hard-charging percussive onslaughts and pure vocal savagery arrives with "Papst Xchnum", before PUPPENGOTT breaks it down on the haunting "Ausrottung".
"In Todesfurcht" ups the intensity ante with slamming drums and venomous growls. "Köters gonna köt" unwinds a series of twisting synths and echoing loops set to melt the mind, which then leaves way for 14 minutes and 38 seconds of "Köters gonna köt II" and 20 minutes and 48 seconds of "Köters gonna köt III". Two epic tracks that take their time in building substantial, all-enveloping atmospheres, which could so easily lend themselves to being cinematic soundtracks.
Through all these alluring and at times disturbing permutations, PUPPENGOTT performs with impressive instrumental and production skill, including expertly adaptive synth work as well as deft vocal and storytelling performances while he unpacks his dark themes often relating to dolls.
"Was ist vom Leben zu erwarten?"serves as a reminder that music can often be the purest form of human expression. As a work of art, sonically PUPPENGOTT seems to take us into the deepest and darkest places of the human psyche. The music is intense but unhurried, allowing you to soak up every drip of disturbing emotion found in these soundscapes.
OFFICIAL LINKS: https://linktr.ee/xchnum