Drummer, music producer, actor and model, R-3's journey began at a tender age aspiring to be a rock star. An avid storyteller, R-3 is greatly influenced by real life, drawing inspiration for his craft from personal experiences, allowing him to invoke strong emotions in people. It's hard to overlook what he has been doing as an independent artist. If he keeps his momentum going, the underground rap community will be pushing him towards the forefront soon. The older fan-bases will love him for his storytelling ability but his gift to write and make catchy songs with a myriad of flavors will draw the attention of any listener as well.
Don't put R-3 in any box though, as he is a more complete artist than you'd think at first, and has already been making noise with his singles, "Get It In" and "Firestick, as well as his 2021 album "Bigger Picture". R-3 has the potential and skill level to follow his own route, and if he gets the right people in his corner as well, then the sky may be the only limit for him. Moreover, he has a knack for quotables in his verses, along with a strong ear for unique production.
On R-3's latest single "Heavy Duty", the music is spiced-up with soul and rock elements, while his effortless flow and delivery makes some straight talking lyrics feel profound. The song allows him to flex with cocky bars and gives us a glimpse of his comfortable vocal prowess.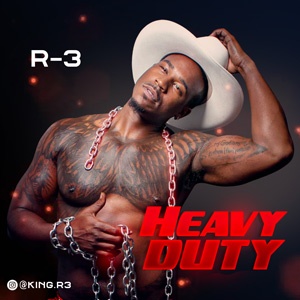 "Heavy Duty" is further proof that the rising rapper is able to flaunt his skills by flowing over any kind of instrumental. It's clear from R-3's ambition that he won't be pumping the brakes anytime soon.
R-3's versatile flows and outspoken, sometimes risqué bars, stand out in every song he drops, and are evident in "Heavy Duty". The artist's dedication to crafting authentic bars for every beat he works on, is clear from the second you press play on this track.
His catchy wordplay will certainly grab your attention. One of the reasons rap is one of the most exciting and popular genres on the planet is thanks to artists like R-3, who constantly introduce fresh sounds and perspectives.
Rap music seems to move especially quickly, and if you might be looking for some newer acts to check out, R-3 could be your man. With fluctuating vocals that ooze bravado and emotion, his potential is limitless.
"Heavy Duty" proves R-3 is a force to be reckoned with, and it already hints at several directions he could potentially take next. There's no reason to think it won't make a star of the raunchy rapper as well. With a distinctive look and an engaging style that justifies the attention, R-3 looks like as much of a sure bet to blow up as it gets.
"Heavy Duty" draws attention to all the artist's wares, and blends it into something singular and captivating. R-3 may be one of those underground breakouts no one was expecting, but few will be surprised by.