On his 9-track album, "Addicting Joints", T.U.Savant has carved out a stylistic niche that prevents him from being boxed into any of rap's cliques. He sounds grizzled and world-weary when he raps, yet wildly raw and rambunctious in the same breath. His ever-shifting vocal aesthetic makes him one of the most invigorating independent prospects to come out with a project this year. Everything from the vocal arrangements, song titles and production on his tracks, feel crafted with meticulous detail. The album is a constantly moving collection of hard-hitting emotions with alternative musical twists that work. T.U.Savant's main strength is that he's able to come off as amorphous as he builds his identity through each song.
T.U.Savant's sound drips with venomous energy. He raps with a dexterous touch that breathes vibrant fire into every cut. Curiously, T.U.Savant is a rapper with Tourette's syndrome. He has been doing music for years, and capitalizes on good opportunities, despite his condition. The rapper was diagnosed with the condition, when he was 7 years old, which has always made him feel left out, but hip-hop has given him a voice and a vision, which is clearly evident on "Addicting Joints".
From the opening track, "Let Me Shine" ft. Nick Kim, this album distinguishes itself from the rest of T.U.Savant's contemporaries. The song is awash with lyrical rap and plenty of stirring melody as it stomps into alternative territory. It quickly sets a high-flying vibe for the rest of the recording.
One track later, T.U.Savant flips the sonic template with an emotional piano-driven ballad entitled "Song for Mamma". The raw melodrama through which the rapper spits is awe-inspiring, and totally captivating.
This leads to the dramatic cinematic intro of "Dimension's" which morphs into a dark crashing beat and a euphoric delivery from T.U.Savant. This is followed by the nostalgic sound and sharp witty bars of "Something About Her". T.U.Savant hangs onto the end of every word as though it is being spoken with absolute substance. He proves with every change in flow that his delivery and sheer technical ability should never be in question.
Up next, is the hardcore confrontational delivery of "They Know", which has an underlying beat that sounds alike a videogame soundtrack. "Oh You Knew Its T.U." is another album highlight, which sees T.U.Savant dropping lyrical bombs onto his targets, which are mainly "American bitches".
The momentum is maintained on "Golden Nuggets", where rapper is already in overdrive. "This is to the baddest woman on this planet. The baddest women all around the galaxy," raps T.U.Savant, the abrasive grit of his voice tearing through the beat with a vengeance.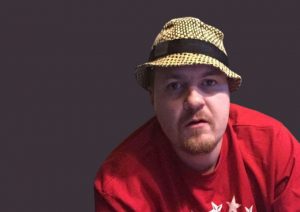 "Swag Tone Like Barry White" brings a slapping beat and a mesmerizing sing-song delivery from T.U.Savant that will hold your attention and move your feet. It's done exceedingly well and really puts the listener into a hypnotizing groove.
Twisting synths and start-stop rumbling basslines launch the off-kilter "Poke", where T.U.Savant delivers yet another exhilarating displays of his technical abilities – whether it's his machine-gun flow or his phenomenal wordplay, you'll be overwhelmed.
On this recording, T.U.Savant, asserts himself as one of the best technical rappers of his kind around. "Addicting Joints" is a comprehensive and multifaceted album that captures the various sides of T.U.Savant's artistry. Each track has been carefully considered and placed. There can be no doubt that T.U.Savant is confident and self-assured, and that there is no stopping him from here. This is a must listen to any fan of rap and hip-hop.
OFFICIAL LINKS: https://distrokid.com/hyperfollow/tusavant/addicting-joints