Listeners will don their dancing shoes on the rollicking "Great Great" by anointed songstress Ufuoma. The song is the perfect prototype of a modern crossover praise and worship song. It sports an energetic beat, a rocking aura, and lyrics about the cares of this world being overcome by God's joy, love and greatness. The track also has an easy to remember hook that will encourage congregational singing. The release of this song sees Ufuoma take the next step in her recording career, as she shows she has the voice and the songwriting chops to become a Gospel music leader, and in the process, she provides radio, fans and choirs what they are all looking for in a song.
Ufuoma is an up and coming Gospel artist, who believes her call is to translate written scripture text into music, with the power of the Holy Spirit, to make it easy for many to embed the word of God in their hearts.  She currently lives in the United States and serves on the worship team at her local church. Her previous releases include "Rain Of Fire", "He is Lord" and "The Lord God Reigns". Ufuoma's resonating, fiery vocals and raw talent will have listeners immediately captivated.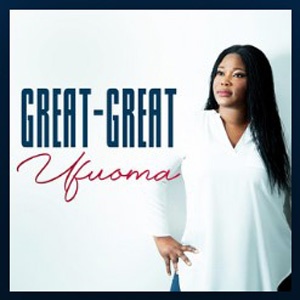 "Great Great" not only highlights Ufuoma's vocal prowess, but her vivacious charisma as an artist. She dominates the track from every angle, as she brings out new sounds and textures. It's hard to put it into words everything that Ufuoma's is, suffice to say that whatever she is, she is an abundance of it.  Ufuoma gives her all in every aspect of her performance, and you simply cannot deny that a true and natural gift resides in her.
I believe that "Great Great" is Ufuoma's best single yet.  She sounds amazing, she sounds whole and complete.  Ufuoma's isn't just singing, but she is ministering, and the music behind her sounds organic and fresh. From the moment Ufuoma takes her stance behind the mic, she connects with her listeners. She offers them a contemporary gospel stomper full of praise, joy and celebration that is fitting in light of Ufuoma's uplifting lyric sheet.
Ufuoma is unquestionably inspired in "Great Great", as her uplifting, rapturous joy washes over the entire track from the intro until the outro. While she has largely stayed under the mainstream radar, Ufuoma has the voice and the talent to be spotlighted, and she reminds us of that fact with this song.
She is strong of voice and her ministry comes roaring through the sound system on "Great Great". Relying on her abundant strengths, she struts across the arrangement with effortless ease.
There's something really special about Ufuoma's voice. Something extra, called praise & worship, sung effortlessly with an unshakable passion, and coupled with a song that has that instant replay factor which will make you keep playing it over and over again. On each subsequent release, Ufuoma grows from strength to strength. Her powerhouse vocals and radiant presence makes "Great Great" a vibrant and inspiring listening experience.
OFFICIAL LINKS:
Instagram, Facebook, Youtube: @therealufuoma
https://youtu.be/cJOkbvQhYig
https://open.spotify.com/track/4a70SQdU9z72zSt0GCUoVu?si=e7ed03b0e9554496