A newly signed artist to WARREADY Inc., War Mothershed hails from Oklahoma City. He has been writing music for himself and other musicians for over seven years and has been performing live across the United States of America. War has appeared on the cover of Key Line Magazine, and has featured interviews with HBT & Millennium Magazine. War has also created a podcast titled "Warready Podcast: Growth Is Hard" where he plans to create a community of healthier lifestyles and broken generational curses. His potential for greatness is why his latest 2022 single, "Only Child", is so highly anticipated. The track will be heard by ears that are familiar with what this artist is capable of. They will be listening for elevation. To hear if and how he has transcended his prior work. That is the pressure of each new release for any talented artist. An expectation of excellence.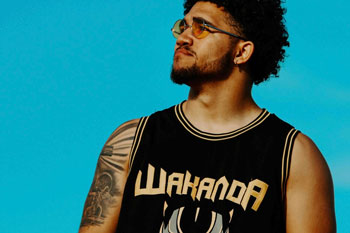 No need to worry though. The Oklahoma City hip-hop artist, War Mothershed is one of the latest rap phenomenons turning heads in the rap game. Now, with "Only Child", War Mothershed shows not only consistency but more importantly an overall improvement in terms of delivery, songwriting and production.
You can tell War Mothershed spends time perfecting his craft while allowing himself to be inspired by some of his best peers. Sure, he can rap fast, but where he really shines is the way he manages to seamlessly change flows with a meticulous word play and engaging charisma.
The single, "Only Child" feels fresh and unique, mostly due to War Mothershed dynamic and aggressive delivery, which is his greatest strength, and features moments of lyrical brilliance and, more importantly, a sense of authenticity.
This track is a must listen to anyone who enjoys hip hop and wants to keep up with the artists that are truly taking things to another level in the modern urban scene. Overall this is sheer skill-display from an artist that should appeal to anybody who has a serious passion for the game.
War Mothershed engages the audience with his lyricism, nuanced flow, and abrasive tones that do well to blend with the beat presented here.  War Mothershed not only shines brightly in his relentless bars on the track, but he does so effortlessly.
In a time when technical lyrical ability in rap has become secondary to whatever else people gravitate to, War Mothershed has the tools to grind his way to the top of the rap game, diverging through the modern hip hop sound with his own captivating sonic aesthetic.
"Only Child" shows that what differentiates War Mothershed from many of his contemporaries is that he exhibits a sense of care for his craft, and how he delivers his words. If there's any doubt about his desire to be the best, he wipes that away here.
His way of animating himself and his energy is mesmerizing, but along with these incredible abilities, he has so much more to offer. He is bringing lyricism and technical ability back to the forefront of the game. If "Only Child" is any signal of what to expect from War Mothershed in future, then many hip-hop enthusiasts should be excited to see where his career will take him next.
OFFICIAL LINKS:
War Mothershed: @_iamwarready on Instagram, Twitter, Facebook, etc.
Diamond Harper: @diamond.13.Harper on Instagram