Wilson Gonzalez Ochsenknecht is a multi-talented artist, who has found success as an actor, artist, and musician. His music project, A Black Rainbow, represents the outsider who is soulful, profound, and rebellious, and combines rock n' roll, darkwave, electro, and techno flavors. Wilson's diverse musical taste is his strength, allowing him to intuitively react to the moods of his audience. Wilson founded A Black Rainbow in 2010 with friends, and their debut EP "Face" was released in Spring 2023, after countless hours in the rehearsal room. The debut single "The Inbetween" received critical acclaim, followed by two more tracks and some Open Air Shows. "Don't Touch My heart" is A Black Rainbow's latest single, accompanied by a visually stunning music video.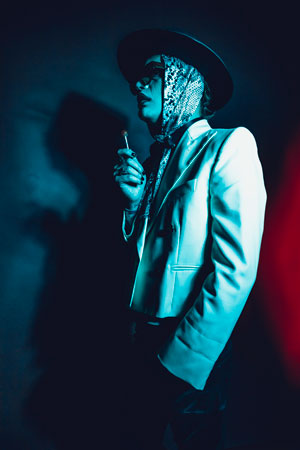 Wilson Gonzalez Ochsenknecht says that his own music allows him to show facets of himself that otherwise are hidden in acting. A Black Rainbow is a reflection of his innermost self, mysterious, dark, and androgynous, yet always accompanied by a spark of hope. "Face" is a well-crafted EP with some great standout tracks. Wilson always puts a great deal of thought into his music to make each song feel substantial and meaningful. Consequently, the recording does a lot to distinguish itself from the rest of alternative music's current catalog, and as such, will do a lot to convert listeners that are not already fans.
The EP opens with "Hey Kids", and quickly sets the mood. The track is full of throbbing drums combined with harsh synths and dynamically dancing keys. All of this is shared with A Black Rainbow's lyrical prowess and soaring vocals. "Don't Touch My Heart" convey a sense of longing and nostalgia, with a touch of mystery and passion. The singer's fear of losing the love he has found and the power of the small gestures given to him by his love interest are themes that are relatable and universal. The repeated phrase, "She lived, she loved, she cried," adds to the overall emotional intensity of the song.
"Weird World" drifts in on a hazy, psychedelic sonic aura, before the thrusting techno beat propels it into a crushing dancefloor banger. What makes it special is the precision with which the sounds are implemented and the strong grasp that A Black Rainbow's has on both the rhythmic and melodic dynamics of his work.  Several contrapuntal layers are interwoven into this track. The same can be noted on the title track, "Face", which bursts with melodic energy and musical grit.
"The Inbetween" builds off twisting synths, rolling basslines, and thumping drums, which form solid platform for the anthemic vocals. The beat constructs a very powerful and complex tapestry that favors transcendence and is strikingly visual in its content.  The EP closes with the pulsating rhythm of "Whar", which has an epic sweep in the chorus, and builds to a euphoric conclusion.

Wilson's vocals have much to do with the vibe that the EP gives off.  For the most part, they're clean, clear and melodic, which makes for an unexpectedly pleasant contrast for this genre-blend. The last thing one expects to hear amid multiple layers of sounds and beats is a clear soaring voice shining through.
Wilson's voice goes a long way in terms of humanizing the music and making it feel like much more than electronic output. He continually exudes strength, confidence, and pride in his delivery, contributing to the noble quality of the record.
Overall, "Face" is an EP, which should be listened to multiple times. It is easy to get lost in the novelty of the unique sounds of A Black Rainbow and miss the lyrical depth that Wilson Gonzalez Ochsenknecht has weaved into this recording. "Face" ultimately presents an awesome combination of melody, pounding rhythms, and mindful lyrics.
OFFICIAL LINKS:
Instagram: https://www.instagram.com/a_black_rainbow/?hl=de
Facebook: https://www.facebook.com/ABlackRainbow/?locale=de_DE
TikTok: https://www.tiktok.com/@ablackrainbow