"Atlantis" is the kind of track for people who enjoy thinking and dancing – in whichever order they choose of course. The production builds a bridge between the introspective, pastoral warmth of ambient instrumental music, the melodic architecture of post-rock, and shiny, driving IDM influences. A significant difference being that, this music does not fit the term 'ambient music' in the way Brian Eno first described it, stating that it can be "actively listened to with attention or as easily ignored, depending on the choice of the listener."
The reason is simple – "Atlantis" cannot be ignored, for a number of reasons. Primarily its throbbing groove-driven beat, which will grab your attention and will not let go until the end of the song. Secondly, the track builds the perfect cinematic canvas on which to project your thoughts and fantasies of the moment. "Atlantis" is lusciously layered, cinematic and fully developed, shifting through it's flourishing arrangement with the perfect precision Le MishMish brings to his music.
Beginning in a sparse and somber fashion, its ambience quickly slips away to make room for a more propelled journey through the soundscape, gathering momentum and shifting sonic gravities as if reaching through the speakers into the physical realm. "Atlantis" showcases the web Le MishMish weaves between melodic and narrative structure, as well as rhythmic cadence, outlining the boundaries of each, then blurring the lines between synths and echoed, ringing guitars, before enhancing their collective impact.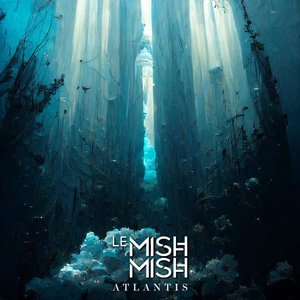 Le MishMish is a rare electronic artist whose instrumental work actually matches up with the melodies and rhythms he produces. As an artist, he is not simply a songwriter or producer, but also an aural designer. His designs are warm, clean, crisp and exude a soothing vibrancy. The sounds Le MishMish uses, and how he positions them are carefully deliberated. This allows "Atlantis" to possess a sparkling effervescence and a powerful, simmering rhythm, yet maintain a mellow sheen with a distinct IDM bent.
"Atlantis" is track that rewards close listening, as Le MishMish builds his sonic imagery, which unfolds the thematic textures of its title. It is with deeper consideration that we are able to hear how impeccable and meticulous Le MishMish's sounds have been orchestrated, which is indicative of the amount of thought he affords his work. He submerges us in bouncing basslines, thumping drums, flourishing keyboards, and shimmering guitars, taking us to an expansive realm of liquefied harmony.
The euphonious blend of tones on "Atlantis" are carefully woven together on a celestial wave of transient adventure. The aural ambience, although precisely designed, is done with a deep sensitivity and sentiment that comes across in the track. Listeners are met with nothing but sonic eloquence and grace that is both infectious and cathartic. It is impossible to come out the other end of this listening experience with anything other than a feeling of serenity and fulfillment.
About The Artist: Le MishMish is a Cairo-based guitarist, producer, and audio engineer. He has played live with multiple bands for over 14 years, including Strawberry Swing, the only acknowledged Coldplay tribute band in the META region. He is now also focusing on his solo work and collaborations with other artists, along with being a part of Strawberry Swing. Passionate about photography and video production, his favorite musicians include Kiasmos, Opeth, Coldplay, and French 79.
Connect with Le MishMish: http://instagram.com/lemishmish