Born in the Bronx, Sneak EPTX has a master's degree in public administration and a bachelor's degree in Philosophy, but that's just so he has something to fall back on, he states. Sneak EPTX, whose father was a DJ, started at open mics in 1997, while his first studio recording was in 2017. He is currently promoting his 14-track album "Clocks" which features 7 songs about ghosts. Entities which he claims to have seen, and believes in. The album is an excellent showcase for Sneak EPTX's locked-in flow and snappy lyricism, as he combines straight-talking, with quips that highlight his bravado.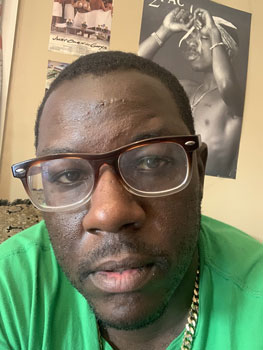 From the opening track, "Corvettes & Mustangs & Chargers & Challengers", Sneak EPTX attacks the mic, keeping the crowd enthralled with his booming delivery and insane verbal acrobatics. His bombastic, battle-rhyming flow relies heavily on verbal calisthenics and wordplay. This works to his advantage, because there aren't that many emcees today who sound like Sneak EPTX.
Sneak EPTX's commanding flow and delivery immediately stand out. It reminds older listeners of the rappers they were listening to when they first discovered hip-hop. For younger listeners, it delivers an experience that is wholly unlike what the majority of today's emcees are offering.
As he jumps into "Wait" and "Tales of Nobody", there is something immediately gripping about Sneak EPTX's unorthodox delivery. While emcees today typically adopt a certain style to deliver their lyrics, he instead uses lyrics as a medium for his styles.
"Dreaming" and "Evidence" also sums up the lyrical content of "Clocks". Most of the tracks see Sneak EPTX demonstrating his skills on the mic through words and deeds that communicate his powerful mindset and experiences.
He switches up on "Thank You Lord", on top of a thumping beat where he throws in some anthemic vocals to drive the momentum of the track. The beats on the album always manage to keep things from getting pedestrian, and the production styles give Sneak EPTX room to shine.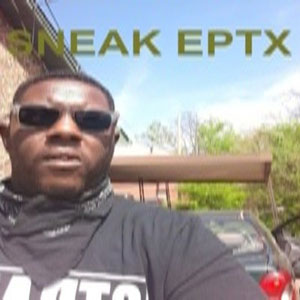 "Moment of Time", "Don't Show Up" and "The Prime Directive" thoroughly unfold the rapper's belief in ghosts. The result? A mesmerizing display of lyrical construction, storytelling and vocal acrobatics, with a solid array of accompanying beats.
Sneak EPTX's overall output displays a distinctive aesthetic, which is the perfect marriage of old school skills with new school technology and technique. With such a solid foundation of beats over which to rhyme, Sneak EPTX comes through in spades.
The ghost topic is further fleshed out on "Connected", before Sneak EPTX works his way through the bass dominated "Buss! Of Deez Nighaz" and the busy rhythmic percussion of "We The Party Boys". It's fascinating to hear how before Sneak EPTX adapts his deliveries on the head nodding beats of "We Beef" and "Doing The Music".
He dominates each track with an unending stream of words, carefully constructed to optimize his control over the flow. Sneak EPTX's style also requires an unprecedented amount of lyrical dexterity to make it flow, as he takes us back to the vintage flavors of classic rapping. We should count ourselves lucky to hear a fresh new version of hip-hop's cultural history.