The track "Advance" lunges gently forward with busting percussion, lighting up the pleasure center of your brain. Not before long silky threads of synth slide into one ear and then the other, opening themselves up to twinkling electronics, which ignite an ethereal, idiosyncratic and beautiful voice that melts into your subconscious, with the following words: "Up beyond the winds. Empty spaces. Nebulae of starlings. Whirling. Wave of light. In the pause. Whatever happens here. Unknown land. Lay down in cool space. The morning star. In the bright light. Lives the real thing. Wave of light. In the pause. Whatever happens here. Just advance," and for that moment, all there is in your consciousness, is the sound of the ensemble of syncretic art – Thy Veils.
"Advance" is taken from the concept album, "Neoradiant" – an audiovisual aesthetic masterpiece, with each song seamlessly flowing into the next both musically and lyrically, where complexity meets experimentation and endless vision. Where sonic art meets visual design, where dance and music collide, explode and blend into infinite expansions of creative and emotional expression.  Thy Veils can be viewed as an innovative and experimental project, with a sound and a style that defies absolute categorization.
Thy Veils started out as a studio project in 1995, headed by Daniel Dorobantu, and soon it became a pioneering name in the Romanian ambient music scene. After 13 years of studio productions, in 2008 Daniel transformed Thy Veils into an ensemble of performing art. By 2021 they self-produced seven studio albums, four live recordings and numerous singles, a DVD with non-narrative video essays, video art for live performances and video installations, music for film and contemporary dance.
Thy Veils have executed "Advance" with such confidence that it is difficult not to become enthralled by the track's overall audiovisual effect, and its place in the modern music landscape. The track immediately announces its vitality by way of it's striking synth sounds, the skittering percussion and celestial vocals.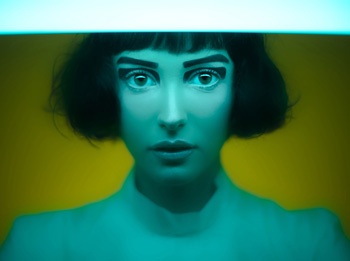 Daniel Dorobantu (electronics, lyrics, music production, vfx, editing, video production) and the rest of the Thy Veils crew – Alira Mun (vocal, lyrics, performed in English), Manuela Marchis – (vocal, performed in idioglossia), Attila Lukinich (mixing, mastering), Denisa Coropca (choreography & dance), Eugen Neacsu – (vfx), Cristian Vaduva (editing) and Flavius Marusca (camera) –  have reached a symbiosis that's rare among highly creative unions. The crystalline talent on display here is impressive in every facet of this recording. They grow a thriving audiovisual world, rich in nuance and detail.
"Advance" is a track that delivers levity and grace, while requiring patience and hard work to accomplish. The vocals manage to simultaneously soar and slither alongside the ever-evolving dynamic futurewave arrangement that almost sounds like electronic chamber music. Every moment of "Advance" sparkles an outpouring of commitment to musical experimentation, technological innovation and general creative extravagance.
If listeners have anything to learn from Thy Veils and "Advance" in particular, it's that the project's music is not something you can simply play as background music—that would be a snub against their prestigious artistry. In fact, their music solicits a complete surrender of all the senses in order to fully experience and appreciate it.
OFFICIAL LINKS:
Official Website – http://www.thyveils.com
YouTube – http://www.youtube.com/thyveilsofficial
Spotify – https://open.spotify.com/artist/4NRofMi8syuXBhYmwSJl6M
Bandcamp – http://thyveils.bandcamp.com
Facebook – http://www.facebook.com/thyveils
Instagram – http://www.instagram.com/thyveils