The album, "The Crying Queens" by Valhalla Superdrive feels like a deep dive into his complex mind. His music is unlike most electronic artists out there; artistic and dynamic, it takes you on a journey and makes you feel simultaneously spirited and at peace. This album is intended to break boundaries and to get people outside of their comfort zone, which it succeeds at perfectly. Throughout this recording, Valhalla Superdrive seems to challenge every established aspect of modern electronic music. Sharp percussive elements hit when they feel like it. Quivering guitars are panned in and out sporadically. Quaint synths infuse the tracks, while resonating basslines rumble and roll. Several times, orchestral strings are thrown right into the mix. The main elements holding all this vivacious buoyancy together are the large sweeping momentum-pushing beats running underneath the entire album.
"The Crying Queens" is the fourth full-length album from Valhalla Superdrive, the brainchild of Kel Alexander, a lifelong musician and visual artist. With four albums now released in less than a year and a half, Valhalla Superdrive has evolved into genre-defining instrumental indietronica. Despite all the beautiful aural anarchy going on throughout, Valhalla Superdrive is able to string tracks together fluidly to create a cohesive listening experience top to bottom.
"The Crying Queens" breaks boundaries for modern electronic music and pushes the genre forward in new and exciting ways. While unconventional production isn't new to Valhalla Superdrive, this is by far his most adventurous and varying release, and it pays off massively. Valhalla Superdrive's sounds have always hit emotionally while also giving you the right amount of head bangs. Only this time, it is not just certain songs that makes this album enjoyable, it is every song played that makes it awesome.
"Her Eyes Are Highs" opens the sonic scenario with strong ethnic flavors as it builds into a driving rhythm, allowing itself to make a number of sharp musical turns along the way. On "Downtown", Valhalla Superdrive creates different electronic moods that sound like twisting blades running through you ears. "On the Mend", exposes us to yet another explosive arrangement that frequently changes color – going from minimal electro groove to cinematic grandeur.
If you approach this album with a pre-conceived notion of what you think it is going to sound like, your expectations will soon be disrupted by the eclectic creativity Valhalla Superdrive brings to the table. "Across the Language Barrier (Come Hither)", again switches the template drastically, where resonating basslines intertwine with popping synths and a string section. "Taylor Swift" sounds like a futuristic runaway train with its relentless rhythm, while "Buddha's Voodoo" brings an organic sounding groove, lushly layered with vibrant guitar motifs.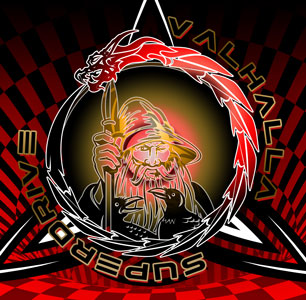 The guitars only add more to these fantastic tunes, and drives the listener into a shimmering bliss on "Oh Elle!". Each composition is vastly different from one another, presenting exciting opportunities to ponder what exactly is about to happen next. And what happens next is "Solitude", which starts off like an epic ballad before morphing into something more complex and intense. All of which brings us to the title track, "The Crying Queens".
"The Crying Queens" is constructed on a momentum pushing groove, filled with punchy horns and ruminating basslines. The album closes with the playful and sweeping, "I Don't Jack Off Very Much Anymore".
There can be no doubt that after listening to this album, listeners will get a good grasp of who Valhalla Superdrive is, and what he aims to be in the next step of his career. A note of interest: Anyone wishing to check out Valhalla Superdrive's website for visionary abstract artwork and visual design can go here: www.hyperlyght.org
OFFICIAL LINKS:
SoundCloud – www.soundcloud.com/valhallasuperdrive  
BandCamp – www.valhallasuperdrive.bandcamp.com  
Spotify – https://open.spotify.com/album/3GNj0BkkMN4ssOwU3q96lC?si=UdU10nzHSPWW8MRk5_cEGA
Twitter – www.twitter.com/valhallasuperdr  
Instagram – www.instagram.com/hyperlyght