With Satellites is a rock band formed in 2018 from Frederick, Maryland (USA). Consisting of Dan Dennison (Drums and Vocals), Scott Gianforte (Vocals and Guitar), Edmund Brown (Bass and Vocals) and Paul Napora (Guitar and Vocals), the band released their debut studio album "Transmissions" in October 2021. Produced in Baltimore at Rome Audio by Scott Gianforte and Jerome Maffeo of Jimmy's Chicken Shack, the 11-track album is available on all media outlets and published by Rayne Music Group. If we are to judge With Satellites by the company they keep, then the band is sitting pretty, as they have already been direct support for several national acts, including Blind Melon, Winger, Slaughter, George Lynch, Trapt, Any Given Sin, Corey Clover, Cowboy Mouth, Faster Pussycat and many more.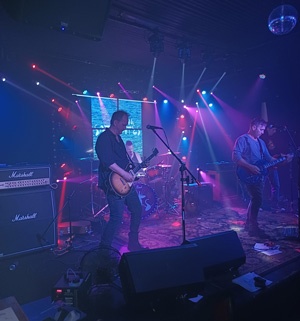 On "Transmissions", With Satellites craft melodic-tinged, arena-ready rock, with a captivating aura as their emotionally-rich tones are thick with both sonic power and technical prowess that emerges in a tangle of shimmering guitars, banging rhythms and soaring vocals.
Often on gentler songs, their melodic charm transcends their grit and drive. This is a clear demonstration of the band's songwriting and performing maturity, which allows their sound to translate to wide plateau of listeners within the vast rock canon.
The album's opening track, "Paralyzed", is an immediate and brilliant display of With Satellites artistic status, rolling out all of their distinguishing characteristics – a driving rhythm, uplifting chord progressions and tons of ear-warming melody, wrapped up in crunch-filled grit.
"Just Another Sad Song" launches with a chugging rhythm, slapping drums, and some crafty storytelling, laced with irresistible choruses. The band uses the wisdom gained from live experiences to make the best of all their performance strengths.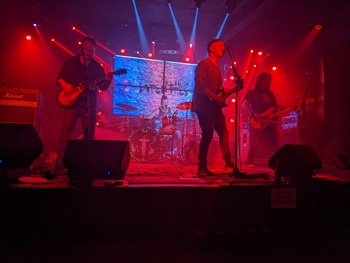 "Daughter" digs deep into the band's expansive stylistic templates, and Scott Gianforte's singer-songwriter roots for a sonic expression that is powerfully engaging. "No Hope" explodes out of the blocks with fiery guitars and Gianforte's vocals shooting into blistering overdrive. It's a showcase of constantly generating energy that is as ambitious as it is adaptable to any ebb and flow.
With Satellites embraces distortion and high intensity as the cornerstone for relentlessly dynamic soundscapes, just as effortlessly as they deal with melody, harmony and organic warmth in their arrangements.
Those aforementioned traits, can easily be heard in both "Money" and "Feels Like Home". The latter infused with subtle, heartfelt Americana flavors, proving just how expansive and versatile With Satellites can be. The band seizes their musical maturity in moments of simple sonic evolution.
On "Believe" they slide into Heartland Rock territory and then slip into a swampy bluesy groove on "Did What You Did", before emerging triumphant on the energized soar of "Let It Rain".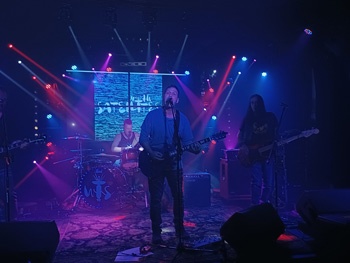 With Satellites' instrumental and vocal clarity, as well as the consistent production are the finishing touches on an album which is structurally and stylistically sound. The racy "Broken" and the contrasting slow burn of the album closer "Their Bones", are perhaps the best examples of these combined qualities.
The band's instrumental capabilities lend boundless depth to these songs, while the vocals add a relentless emotional and ear-warming force. All of which is underscored by a production aesthetic that is majestically powerful but never overwhelming.
All throughout "Transmissions", With Satellites are relentless in their musical ambition and lyrical pursuits, and ever vigilant in their performance and production. That's how they craft an impeccable album. With Satellites has also been selected to open for Ally Venable on July 29th at Zen West in Baltimore MD. The band plan to return to the studio in the fall of 2022 to begin recording their second full-length album.
OFFICIAL LINKS:
www.withsatellites.com
www.facebook.com/WithSatellites
www.twitter.com/SatellitesWith
www.instagram.com/withsatellites
www.withsatellites.hearnow.com