The story of A Photo In The Dark is actually quite a difficult one to tell. The music, quite frankly, is unlike anyone else's. The laser-sharp beats, sturdy basslines, and airy melodies reside in the deep house flavored aesthetic, yet the compositions resist being consigned to that one and only genre-box. The 6-track "Live Session Mixes" project encompasses the full breadth of A Photo In The Dark's musical palette, considering each of these tracks run between 9 and 15 minutes long. A Photo In The Dark is one of a handful of modern day artists I know I'll still be listening to in a few years' time. In fact, I'd urge you to download this album, put on some headphones and take a long walk. You'll no doubt be inspired by these gentle yet coaxing and determined sounds.
An artist who proves real musicianship, composition and arrangement abilities can add entirely new dimensions to electronic music, and that is what A Photo In The Dark achieves with "Live Session Mixes". It's a superb record for home listening or in the car, and some mixes are very danceable too. It's the producer's ability to layer droplets of subtle tones and a solid rhythmical strata that makes these tracks bump-worthy for the dancers.
At the same time A Photo In The Dark has delved deeper into the technology's atmospheric and mood-inducing possibilities, and what comes out is subtly complex, listenable, danceable, and more importantly, gorgeous. It does of course help that these tunes have extensive runtimes, which means that A Photo In The Dark can thoroughly develop his ideas, without being bound to time.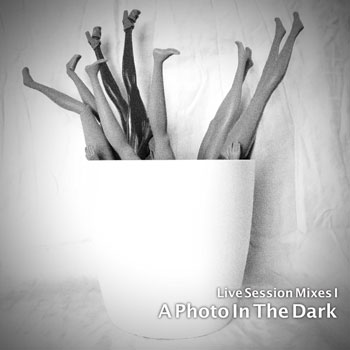 The substance of the arrangements and overall musicality on display go far and beyond the limited skill level shown by most bedroom producers, simply looking for a cheap thrill. From when the project opens with "Notch", A Photo In The Dark fleshes out his productions with creativity and vigor. The throb of the basslines, the epic sweep of the pads and the thump of the drums will stop you in your tracks.
"Meet and leave" rides on relentless, heavy percussion and a mesmeric repeating keyboard hook, as it evolves its timbres and tones, between beat-less interludes and driving rhythms. As such, all you can really do is sit back and admire the exquisite sounds and intricate refrains as they emanate from your grateful speakers. There is a universal appeal in the sound.
Any genuine music lovers are bound to take pleasure in hearing this album, regardless of genre preference. "Live Session Mixes" is a record that grasps you firmly by the hand and leads you down a rabbit hole. "Friendship" bubbles and percolates with warm slippery keys and a consistent kick drum as it steadily grows into something bigger and groovier, all the while remaining understated and smooth.
"Dopeness" slowly develops its dancefloor beat until it throbs with steadfast momentum. The track is indicative of a producer in possession of not only a sharp knowledge of the craft but also an innate ability to internalize, create and convey a perfectly timed beat. It comes complete with a natural groove created by the space created between the sauntering rhythm and smartly applied bass and synths that straddle across it.
A Photo In The Dark deceptively manages to simultaneously heighten and temper proceedings by going deep and long thanks to the maintenance of a sound full but tonally smooth and languid on "8point12". All of which leaves a dramatic allure. The drums thud and thump. The keys shimmer and shine. While the sophisticated intention is soon revealed, with the track's majestically elastic bass line. It creates a groove that drips with a dark energy that's both pointedly cerebral and intensely emotive.
The closes with "Live Session Record 1 Complete Mix", which is yet another example of A Photo In The Dark's innate ability to understand the myriad of intangibles that exist in the relationships forged between the various elements found in each track. It's patently clear that the resulting rhythmic and sonic textures found in this album, should be highly prized.
All A Photo In The Dark's streams can be found here: https://www.feiyr.com/x/BRM8G