As we move steadily into the new year, we get to discover a whole bunch of upcoming artists who are bringing the heat to the genre. One such discovery for us is the Nigerian born, Californian resident, Jone Xox. The Afrobeats artist is currently riding the momentum of his 2022 single, "Controller". Filled with a mixture of both high and gentle energies throughout, the song delivers a frothy bouncing beat, and Jon Xox's mesmeric and melodic flow. All-round, the song boasts an island instrumental, a catchy hook, an infectious melody, unique flows, and easy on the ear romantic lyrics.
"Controller" is a vibrant, exhilarating, smooth, and romantic song. Not only will you dance your ass off when it comes on, but you will also find the urge to hug your life partner tighter than ever. There isn't a dull moment on "Controller".
Throughout the single, Jone Xox sings passionately over an understated but hypnotizing instrumental. He also keeps listeners on the edge of their seats by hitting us with lyrics that are relatable, and vocal nuances that are moving.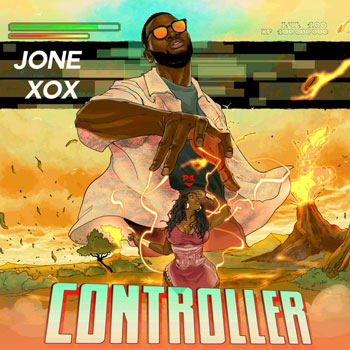 "Controller" is a great combination of Afrobeats and the new wave of melodic Western Hip hop with impeccable production, great enough to get you shaking your head vigorously at the sound of the beat. Another major highlight of this single project is the excellent songwriting. For a time often bashed for repetitive lyrics and inability to tell stories in songs, "Controller" oozes excellent songwriting throughout.
Excellent songwriting is something often overlooked these days when it comes to the projects released by Afro-beats artists because the target audience are mostly about the vibes the track gives to the atmosphere.
However, Jone Xox brings us both the elements, of vibes and substance on "Controller". Afrobeats has come a long way in the international music industry, and the different artists and releases currently around, reveal so much growth, effort and experience.
Jone Xox is a welcome practitioner of the craft. His style is energetic yet relaxed, as "Controller" does not bombast the senses. Instead, it coaxes and seduces the listener into submission.
The sound of Afrobeats is joyously ubiquitous, even in moments of introspection, and Jone Xox has the perfect voice to balance these flavors. His undeniable charisma and intricate understanding of warm, uplifting pop instrumentation, only adds substance to that equation.
So how does the Nigerian-born up comer merge all these engaging elements together on this single? By singing passionately and freely over an instrumental that is shimmering, pure and intoxicating, touching on a topic that is substantially romantic, and focusing on music that gets people to put away their own problems and dance the night away.
In an industry loaded with artists who lack vision and cohesive style for their music, Jone Xox has all of the qualities to enjoy a colorful and stellar career. He knows what works for him, and he does it extremely well!
OFFICIAL LINKS: ALL MUSIC STREAMS