Anthony better known by his stage name Ant or Whatever is an underground new wave hip-hop artist from Memphis. He first gained notoriety with his debut project, "Tape or Whatever". The artist who has totaled over a million plays on Soundcloud, has garnered thousands of listeners across all platforms, and now brings us his latest single "2 Much Cash". Oozing confidence, the suave and mellifluous rapper hits the congested rap scene like a meteor. His ability to dominate the mic and deliver fiery, action-packed bars with style and grit has defined his flow. His upward trajectory will only gain pace with this melodic banger.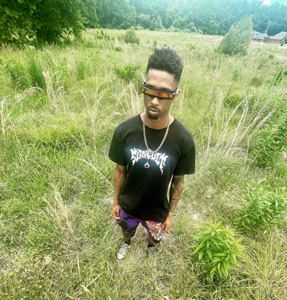 Elevating his pen game and songwriting, his new single proves to be a considerable evolution of his style. He enunciates every line, subtly modulating his voice to move from melodic to nuanced surprise as he delivers his quick-witted rhymes. With the perfect concoction of a debonair personality and consistently ear-warming as well as hard-hitting music, Ant or Whatever will secure his future goals easily.
"2 Much Cash" displays Ant or Whatever's limitless potential and an innate knack of stories-turned-into-music to intrigue potential fans. He sounds like an artist of the moment, and the next. From multi-layered, metaphorical melodic flow to solid rhyme slaying, Ant or Whatever's talent is a buffet of everything you desire in your new wave hip-hop feast, including dessert. He is the epitome of an underground grinder who is only a couple of songs away from breaking out into mainstream fame.
Armed with all the intangible qualities that define a star, we can safely predict Ant or Whatever is moving in the right lane. Like most younger artists in today's hip-hop landscape, a lot of Ant or Whatever's appeal stems from his trendy, modern sound and materialistic lyricism. "2 Much Cash" certainly has all of those elements, but it also sees Ant or Whatever flashing the potential for so much more to build on in the future.
Ant or Whatever displays a surprisingly dense pen game, an undeniable sense of energy and hordes of vocal creativity across "2 Much Cash". He brings the heat for three minutes, sounding off his own knowledgeable and personal anecdotes.
Ant or Whatever supplies a colorful delivery, with his animated personality showing through right away. This type of catchy song is a trademark for the rapper, and is what his audience comes back for. Whatever the reason for the audience draw, it is undeniable that this track gives us yet another listen to one the best rising melodic rappers.
Ant or Whatever has a lot to be proud of on "2 Much Cash". With its sleek production, ear-catching vibe and Ant or Whatever's more than competent lyrical abilities, the track shows the potential for him to drop a truly special project in the future; it is just a matter of time now.
In a world where there seems to be a new rapper emerging every other day, it is hard to keep up, as they drop off just as quickly.  Ant or Whatever shows no sign of dropping off, with "2 Much Cash" ready to shift him to new horizons.
OFFICIAL LINKS: @antorwhatever on Instagram, Twitter, SoundCloud and Audiomack