H27, the Octane Rock band out of Milwaukee Wisconsin, has had a quite an interesting start. In early 2008, four guys who happened to be working at the same company met and decided to jam together. They started out playing covers ranging from The Temptations to Megadeth, but it only took them one practice session to spawn original material. They quickly realized that the latter, was the direction in which they wanted to go in. Each member brought his own particular influences and playing style, to complete the distinctive H27 high-energy sound. Then in 2010 the bassist left due to musical differences and an inability to fully commit to the project. H27, however, continued to push forward, with their songwriting core still intact, but finding a suitable bassist proved a daunting task.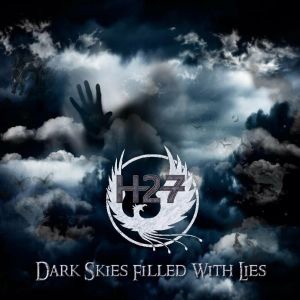 In 2016 H27 were forced into a yearlong hiatus due to circumstances beyond their control. In 2017 they got back on track, rehearsing and writing new music again. That same year they recruited an appropriate bassist, who brought fresh and exciting elements to the H27 sound. Now complete, the band moved towards their next steps. They dropped the EP "Verboten", and then followed it up with the full-length album "The Road To Nowhere", in 2018.
Now H27's absolute consecration as a high-powered octane rock band, can be certified with the release of their latest 12-track project, "Dark Skies Filled With Lies". The album, recorded at Cherry Pit Studio by Ryan Kutz, and mastered by Joel Wanasek, shows that a hard rock band can meld art, aggression and melody.
It's heavy, dramatic and bold, and unfolds with an urgency that is impossible to hold back. The album is heavy on groove while still serving up a healthy dose of bone-crushing rock riffs. It jumps back and forth between sheer ferocity and ear-warming magnificence.
"Dark Skies Filled With Lies" is by far the band's most complete musical effort, as they throw loads of ideas at the album, honing in on what they already know and making ideas more effective.
The album opens with "Wicked Girl" which quickly frames H27's intentions. The heavy rhythm section holds down a fat sound, while the guitars create a beautiful soundscape that make the gritty vocals and lyrics that much more emotional. The sinister heaviness surges with "Fighting Time", before the catchy aggression of "Sinderella" stirs up the dust.
"Deceiver / Cries for Redemption" brings the walls down. The guitars stay brutal, the drumming stays tight, and the vocals stay hard. H27 never come across contrived. They know what they want, and deliver their songs with conviction.
Such is the case with "Coming Home", which switches between a mellifluous and acoustically driven soundscape, and an explosive, soaring anthem. "Black Widow" is awash with high-octane groove and killer chants. This leads directly to "Severed Anus & The Stuffed Rat" a runaway instrumental with screaming guitars coming at you full force.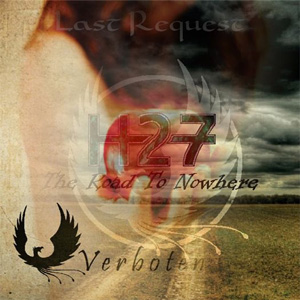 "Iron Will" has the core head-banging elements of classic metal and is the perfect lead up to the crushing riffs of "Just a Freak" which keeps the energy going, and adds a catchy singalong chorus just for kicks.
Strangely enough, one of my favorite tracks on the album is the quieter, more nuanced and atmospheric, "10,000 Stones". It features soulful vocals, thoughtful lyrics, and a superbly executed, stripped back arrangement. This is quickly contrasted by the euphoric bombast of "The Darkest Lie".
H27 close the album with a full frontal powerhouse track in the form of "Tsunami", to create a six-minute plus opus of sharp emotional notes and beautifully arranged melodies. It is a dynamic end to the project, which is sure to enthrall listeners.
To say that H27 has cranked it up a few notches since their debut, would be a disservice to just how much Steve Statler (vocals & guitar), Schack (guitars & backing vocals), Bobby Farr (vocals & drums), and Ken Boggs (bass), have shifted things into the stratosphere on "Dark Skies Filled With Lies". Positively brimming with unwavering zeal and energy, H27 is nothing short of an absolute reinvigoration for the modern hard rock scene.
OFFICIAL LINKS:
Spotify – https://open.spotify.com/artist/2LuEJ9uVjcThUCmLWVhVay
Facebook – https://www.facebook.com/Htwentyseven
Website – https://www.htwenty7.net/
Reverbnation – https://www.reverbnation.com/h27
You Tube – https://www.youtube.com/channel/UCZIwKO8cm9ET_x76zBp-ENQ