Many may know NesKoH (Nesko Hadžimuratović) as an artist, singer and songwriter, born and raised in Sarajevo, who graduated from the Paris Academy of Music, and is the founder of the well-known German punk band LaminiusX. What we didn't know, is that he has a passionate and profound love for sport, himself being a former professional skier. NesKoH skied at a high level and dedicated himself completely, on a daily basis, in his quest to conquer Europe, but due to the difficulties and bureaucracies linked to the war, representatives of Bosnia and Herzegovina did not get go to the European competition.
Hence, a lost opportunity and lots of disappointment followed all the hard work NesKoH and his compatriots endured to reach their sporting goals. That experience, has left NesKoH fully aware of the disappointment every sports competitor could suffer due to lack of state support.
Bosnia and Herzegovina is overflowing with outstanding sporting talents, who are supported poorly by the state, and are forced work towards their eventual successes with just the help of their loved ones. Reading the headlines of the domestic media, which explained the difficulties local athletes had to face, to compete on equal terms with others, inspired NesKoH to write the song, "Tomorrow is already too late".
"Every child has a dream, and every dream requires sacrifice. In order to achieve enviable results in sports, a lot of sacrifice is required, but also love and passion for the chosen discipline. This is exactly what moves young people and gives them 'wings to fly' to the top," explained NesKoH. "With this song, I give them immense support to make their dreams come true. I encourage them with all my heart and soul because they deserve only the best," he concluded.
"Tomorrow is already too late" was recorded in the south of France, while the mixing and mastering was done in Italy. As can be expected, the song roars out of the blocks with crunching guitar motifs and a driving rhythm, before giving way to NeskoH's resonant vocals, which continue to push the momentum. The song bursts with high energy and thick layers of melody, which turns into an anthemic and bombastic chorus.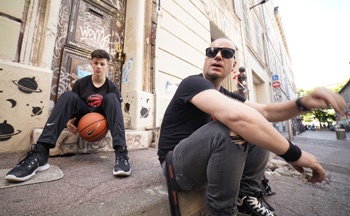 "Tomorrow is already too late" is not the sort of obnoxious rock that lacks substance, but rather a work by an artist that draws you in towards his music and makes you an instant fan, even if you don't understand the language. There are many reasons to listen to this track, not least for the motivations behind it. However, the most obvious being to assess whether NeskoH matches up to his previous releases, which it does.
"Tomorrow is already too late" is neatly tied together by a stellar production, where every element of the recording is explosive. The song is an affirmation of NeskoH's growing status in the independent rock scene. There is an impression of authority, a sense that the artist has now reached an elevated plateau of songwriting and performance maturity. The single certainly finds itself radiating an utterly uplifting and enthusiastic air.
OFFICIAL LINKS:
www.neskoh.com
https://hayatproduction.ba/
https://open.spotify.com/album/75VxEjKqZE94ha1lYx7FMG
https://deezer.page.link/XAiAFSmp8Yd9DHj39