Press play on the single "Patina", and there you have it: a simply superb synth-pop trio from Northern Colorado, blasting with electro excellence at its finest. Consisting of a producer, a vocalist and a drummer, the band known as NGHT WLVS has been making music together for over 10 years. Truth be told, my high expectations have been exceeded. Thanks to the band's creative compositions, the stellar vocal performance, a top-notch production, and gripping lyrics, there was no room for any compromises whatsoever. NGHT WLVS takes it to the next level by adding exciting creative sparks to their already thrilling sonic template, and ultimately it's so damn satisfying to hear gifted artists perfecting their craft.
The tune perfectly combines both NGHT WLVS sides, the harmonic and tuneful right next to their rhythmic swagger. A melodic chorus with lovely vocals leads to a way more edgy rapped verse with lots of percussive stomp. Their trick is not only delivering high-class music but also meaningful and thought-provoking lyrics that are at times poignant and in-your-face, as well as uplifting. There are always truly well-crafted lines to be found throughout the song.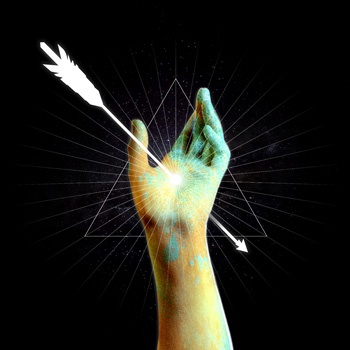 It's no secret that NGHT WLVS songs are not just carefree, happy-go-lucky pop tunes, but actually have meaning. So, it's no surprise the trio are once again presenting a perfect total package from the first notes to the last lyric line. One thing soon becomes clear, the band isn't just performing their music and going through the motions, they are doing so with love and as much heart as musicians can possibly muster.
NGHT WLVS have a particularly unique sound that is both nostalgic and of the day, and they sure know how to put all the elements of that sound together to create a captivating listening experience. "Patina" brings the goods with a hard beat, throbbing basslines, twisting synths, and choruses so catchy you can't help but sing along. Play the song twice and it is locked inside your head, simple as that.
The music and vocals on "Patina", somehow presents a deep feeling of power. It is not just an immediately electrifying and catchy tune. It is also a work of considerable depth and intensity, which reveals all the love for detail that has gone into every bar of music.
The result is a song that twitches and twists with ambition, as it moves from mellifluous passages to sharp lyrical flows. It's an incredibly strong record, and is more than enough to get anyone pumped to hear the rest of their catalog.
With "Patina", NGHT WLVS have created a milestone in their career so far. Definitely, the track will secure a high place in the best synth-pop tracks of 2022. This is refined synth-pop music. One can sing and dance to the prominent rhythm and irresistible hooks on "Patina", yet still encounter the focused lyrical themes that give NGHT WLVS their edge. No doubt, the future looks exiting for the band, who may have uncovered the perfect formula for world domination in their genre.
OFFICIAL LINKS:
https://www.facebook.com/nghtwlvsmusic
https://www.instagram.com/nghtwlvs/